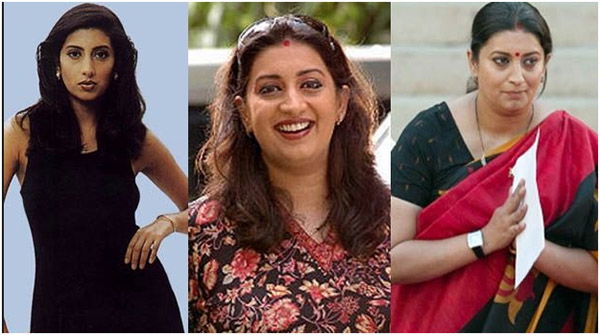 In the surreal corridor of the parliament, among the mighty and powerful, emerges a young and glamorous lady. Head held high, brimming with confidence and carrying that oomph aura, one is forced to wonder what she is doing among the sometimes comical but overall bland group of lawmakers of the country. Well to answer your question, she is a minister of Union Human Resources & Development (HRD) minister and her name is Mrs. Smriti Irani. From contesting the Miss India beauty pageant, acting as a perfect daughter- in- law and now a sworn minister in the Narendra Modi cabinet, the 38 year old Smriti Irani's life has been nothing short of spectacular. Her rise from glamour to power is now being considered as an educative reference in many business schools.
A star in her own right, Smriti's career started in the glamour industry after becoming one of the finalists in 1998 Miss India pageant. Smriti Irani then made her television debut in 2000. Her role as Tulsi Virani in 'Kyunki Saas Bhi Kabhi Bahu Thi' won her a lot of fans and appreciation. Her political journey started in 2003 when she joined the BJP; it was then that her fearlessness and bold avatar came to focus. Being a newbie in the political circle Irani decided to contest against the wily and seasoned Congress candidate Kapil Sibal. Although she lost, BJP appointed Irani as the vice-president of the party's Maharashtra youth wing sensing her unique abilities.
In the 2014 general election, the gutsy Smriti took on Congress Vice President Rahul Gandhi in his home turf of Amethi in Uttar Pradesh and gave him a tough competition. She had challenged Rahul Gandhi's credentials by declaring that those who cannot develop their own constituency shouldn't speak about the development of the country.
The fact that she had proved that she was no pushover compelled the newly elected government to allocate her a top berth in the ministry. Some have had apprehensions about her being given a top ministry with her limited qualifications, but her integrity, hard work and honesty are among the criteria that has been considered by none other than Prime Minister, Mr Narendra Modi before selecting her. She also hit the right notes when she stated that, "Judge me based on my work not by my qualification".
Since then she has proved to be controversy's favorite child. Her educational credentials have caused a huge uproar among her distracters. She added to her woes when she mentioned that she had a Degree from Yale University which was a program participation certificate. But the manner in which she handled both the situations has again proved her credentials as a senior minister.
She has since then acted more carefully, not playing into the hands of pesky reporters outside Parliament. She chooses her answers more wisely. Her decision of avoiding discussions on her time in the glamour industry is seen many as an attempt to convey herself as a seasoned politician. Many believe that she needs not to do so and that she should let her guard down, as the gen next have started appreciating leaders based on the good work they do and not on their past history. She has proved that she is capable of her position by taking some hard decisions, like scraping the FYUP course in Delhi University.
Her gusty spirit, her confidence and her enthusiasm remind the old-timers of the journey of another BJP woman leader, Sushma Swaraj, who in her own right endorses the women on the move attitude.