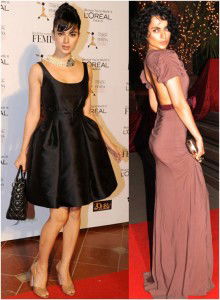 Kangana Ranaut has been in the news recently for her most deserved National Award for her lead role in the movie, Queen. She has come a long way from her first movie – Gangster. Her way of dressing up and those out-of-the-box looks usually made it to the list of fashion police and she used to face a lot of flak for her simply weird choice of style and today she loved by the same fashion police.
Her style statement has been in the making for eight years and it has been an upward fashion curve. Curly-locks is how we recognized her when we first saw her on our screens. During her initial stages of change she chose to sport overwhelming combinations of outfits but managed to look presentable in various public events and award ceremonies. Soon we discovered a whole new Kangana in the movies. Her long locks had undergone a makeover and her styling was that of an officegoer's in Life In A… Metro. Then Fashion happened to Kangana Ranaut. Besides working on her diction, this movie provided her an understanding of fashion too. That she has an eye for style only helped. Another revelation was her vintage take in Once Upon A Time In Mumbaai celebrating the bouffant and wardrobe of the '70s. Soon, she spoke the fashion lingo. She excelled the classic Audrey Hepburn look often. And was one of the first few to endorse the cat-eyed frames and faux Bob. Krrish 3 was a whole new ballgame with her futuristic avatars. She was unstoppable; she'd become fashion's encyclopedia.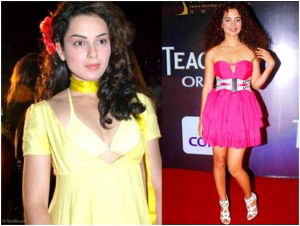 She's improved with each experience, she's faced her share of scathing criticism and she's enjoyed the laurels just as much. Her diva sense evolved with the time, and as she dazzled on ramps and in various photo shoots. While she faced a lot of flak, it was her unique self-confidence that always helped her. Her change reflects on her desire to evolve into a force to reckon with and it reflects a change in her personality. Today, she's one of the definitive style icons in the country. When she sets foot on a red carpet or a ramp, it spells magic. She takes international brands and fashion names and adds her own quirk to their flawless creations. Her whimsical approach to style makes her ever endearing.
Coco Chanel once claimed "I don't do fashion, I am fashion." Kangana Ranaut reminds us of that.