We are back as promised and in the same space. You've waited long enough so we will get right to the point.
At our Tailored Level 4, we have our very own Sari but worn this time with a Matched Jacket. The cue to recognise this level is a Matched Suit. Spot the differences and the similarities between the accepted western matched suit and our Indian authority statement. Most formal of all levels as you will recall, please note that our creation of the Indian Style Scale has all design elements relevant to this level of dress. The straight lines, angular shapes, darker colours, the border adds a hint of a geometric pattern. It has a collar and is long sleeved as well. Due to its lack of a dark-light contrast it may drop a few notches to 4.7 but level 4 and tailored it sure it. Other messages sent out will be credible, persuasive, precise, stable and in a certain level of office.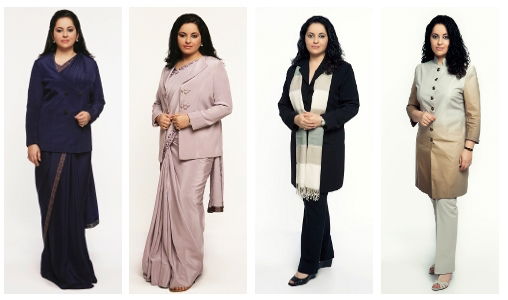 The mauve being a feminine colour would slip a few numbers to 4.5 but would score over the cigarette pants and tunic because of the layer in the form of a fitted long sleeved jacket. Shifting to the black tunic over cigarette pants, structured like a jacket this outfit with the strong contrast stole, stands a few notches above the ivory. The ivory though last on this authority scale, is structured in form, straight lined with buttons in the form of geometric patterns etc. Despite their resemblance to our very own salwar kameez, we urge you to take a moment to jot down the message these garments send out. How would you feel wearing something like this? Would it be a compromise in any form, we doubt. In fact, we think it makes a quite a statement giving you undoubted edge you were pleading for.
At Level 3, we have Softly Tailored outfit. Here the cue being simply a Jacket. An un-matched suit we would call it, this outfit speaks of authority in an accessible way. You can be influential, capable, consistent and dependable as someone a little less formal. This too is a tailored outfit with a few untailored element added just to soften the look. Note the contrast in the form of a jacket or a third layer in the case of the center picture. Again though the sari is supreme, the tunic and cigarette pants make quite a statement as well.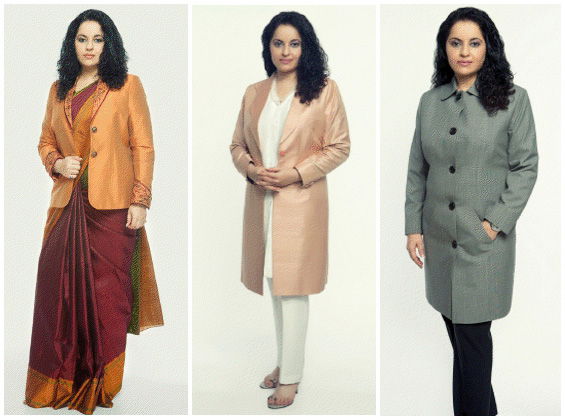 Placed in levels of authority, the sari for obvious reasons gains a few points. The centre outfit would pick up authority with the addition of the extra layer but by just a notch over the last outfit as that sure radiates structure with the colour, straight lines, geometric shaped buttons and firm fabric.
At Level 2 stands the most common Casually Tailored. The cue here is an essential Collar. Notice it's presence in all four pictures. A lot less formal this level is predominantly untailored mixed with a few tailored design elements to give it strength. The efficient mix of tailored and untailored elements makes it more famously know as the Business Casual look. Carrying this outfit would communicate that you were approachable, very functional, flexible, cooperative, informal and relaxed.
While the dark sari with its striking contrast and dressy fabric would be slotted the highest on the Level 2 chart, the ivory would drop a few notches for the Chinese collar, choice of colour and subtle contrast. Again the weak contrast is what puts the ferozi silk tunic lower on the scale though in it's own right, that too is quite a winner. Even lower on this scale is the last outfit and notice how just the lack of a layer and a change in colour can say another thing altogether.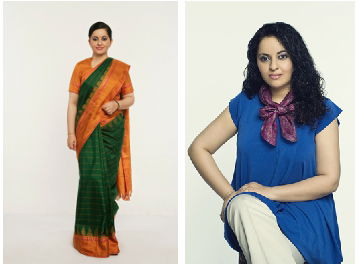 Finally at Level 1 lies the Un-tailored. The indication being the absence of a collar. With No Collar you would communicate that you are available, unofficial for sure, agreeable, responsive, casual, easy going and may be even, temporary. It is in absolute contrast to our Level 4 which give us so much authority and credibility. Apt for casual at home, work out or sportswear this level of dress will get you much less attention. Worn primarily for comfort it can well be pulled up to a business casual level by just adding a layer in the form of a scarf or by using a duller wardrobe neutral colour, firmer fabric or even by creating a dark light contrast.
Our very own sari has always been at level one but this one goes way up on the scale for it's choice of colour and firmness of fabric. The other outfit stays much lower despite the addition of a scarf only due to the softness in fabric.
Here in this picture, though there is a layer giving it a more dressy look, the softness in the fabric does not take it all the way up there.
Now this was our picture presentation of an efficient, effective, useable Indian wardrobe for every level. Communicate all you want just by exchanging and inter mixing the key design elements and you've made a statement.
Go forth ladies, get noticed !