They are the perfect wear for winters. They look right on most occasions. They are a necessary element of the chic and the fashionable wardrobe. They are trench coats.
Worn over formals, jeans, sweaters, shift dresses, leggings or frocks, trench coats make you look stylish and trendy. The history of trench coats truly begins with Thomas Burberry who introduced gabardine, the world's first water-resistant fabric which was strong, light-weight and breathable.
From that seemingly simple, yet innovative outerwear, the trench has travelled a long way. From bright metallic trenches, cotton-satin trench coats, cashmere, lace, wool, taffeta, leather and more, Burberry trench coats today come in a variety of fabrics and bold shades. From mid-calf to knee-length and mid-thigh trenches, corset jackets, cape jackets and capelets, they vary in length, colour and pattern, offering great variety to women's coats.
Although the basic style remains the same, with a storm flap, shoulder straps and a D-ring belt to cinch the waist, the Burberry trench has kept its style alive. In 2012, an army of models walked down the cat walk in metallic trenches, introducing yet another signature style from Burberry's.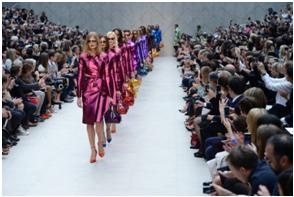 Favorite of celebrities form Kate Moss and Victoria Beckham to Queen Elizabeth, the Burberry is the fashion staple for many.
Trenches To Office
If you are looking for a single, all-purpose trench coat, choose a deep blue, black or the classic khaki trench. You can wear it on a formal day to office, on an evening out or on a casual day. A knee-length trench works well as an all-purpose coat. It looks appropriate on all occasions and over a range of clothing.
For formal office wear, you can pair it with pencil skirts or formal trousers. When wearing it with skirts, make sure the skirt peeks out by a couple of inches to get the appropriate look.
Dates and Dinners
On an evening out, you can wear it over a shift dress, a frock or a gown and you will look chic. Choose your accessories well with shoes, clutch and jewellery matching your clothing beneath the trench.
Casual with Trench
You have a lot of choice when it comes to casual wear with your trench. Wear it like a frock, or a straight trench. Wrap a scarf around your neck if it's too cold, it adds to your style quotient. Wear it over jeans, leggings or just bare legs. You can wear flats, heels or boots and they will all look good with the trench. You can wear them on short skirts and one-piece dresses too.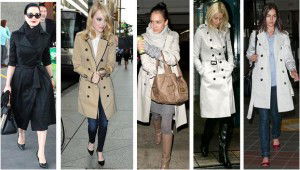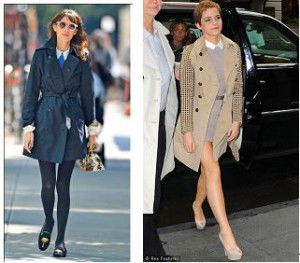 Checked trench coats too look good on most occasions although extra care is needed in choosing your clothing and accessories. They go well with jeans, suits, skirts and dresses. Alternately, wear a traditional khaki trench and match it with a pair of checked boots.
Jazz It Up
You could jazz up your evening with some colourful trenches. Or you could color block your dress. Alternately, you could choose a Burberry trench in a range of designs and colours. Wear one that defines your waist and in colours that are bold, metallic or with a novel pattern.
Watch Blake Lively in one from the Spring-Summer 2012 collection with a multi-coloured embellished collar. Watch the difference in the way the model wears it on the left and Blake Lively's casual approach. Our advice is, once you buy your trench, wear it in your personal style.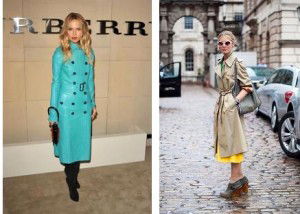 You could alternately go bold with the metallic, satin, lace range from the Burberry Spring-Summer 2013 collection.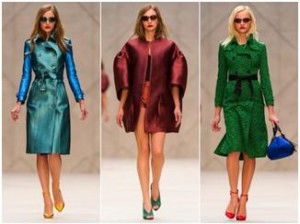 Or you could buy one of the tailored satin capelets from Burberrys. Remove the satin capelet and what you have is a sleeveless dress beneath.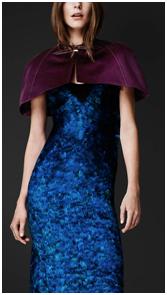 Trench coats offer you a range of choice in your outerwear. It's the size of your wallet and your wardrobe that sets the limit. The greatest advantage with these stylish coats is that they allow you to make your statement with just a single trench coat too. So buy a single trench to begin with, try it out for different occasions and move on to more when you want to.