Lakme Eyeconic – Kajal and Mascara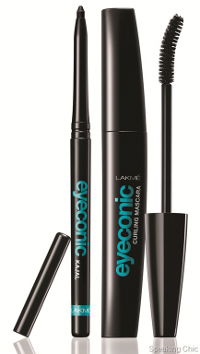 Lakme Eyeconic is one of those new launches with a kajal and mascara – the double whammy to highlight your eyes to perfection. Plus, it lasts 10 hours. It's waterproof and you don't have to worry about smudges. The perfect all-weather eye cosmetic for a long day in office or outdoors.
The mascara itself gives an intense black finish. Enriched with a moisturizer, it keeps the lashes soft and smooth.
Our comments match with reviews we found online…..
……brush is easy to use, and the pointy tip gets to the inner corner lashes just fine. The best thing about it is, it separates lashes rather than clump them together.
…….very black, very soft. Really lasts for 10 hours? Yes! Waterproof? Yes.
Bring sparkle to your eyes and transform your face with Eyeconic!
Schwarzkopf Professional – Osis + Glamour Queen
A hair mousse that holds your hair firmly in place, teamed with a volumizing hair spray for that stylish look – that's Schwarzkopf Professional – Osis Hold Miracle, the super-strong non-sticky styling mousse + Glamour Queen, the easy-to-use volumizing hair spray for you.
Tips to Use:
Prepare the hair using Osis mousse while hair is wet, before blow-drying.
Fix the volume by spraying Osis Glamour Queen directly on the root area. Keep it about 30 cm from your head. Apply in small bursts .
The hairspray can be targeted to fix any back-combing, ensuring long-lasting volume.
Control the hair volume based on your hair density and face shape. For oval faces, the more the volume, the better. For round faces, reduce the volume. It adds width to the sides of your face making it appear rounder.
Now, let your imagination loose!