Amitabh Bachchan – The image of the angry young man of the 70s has given way to his real life self, of a humble human being, who lives his life with grace, dignity and simplicity. This is the image that comes clean across in what he wears, how he wears it, what he does and how he speaks.
Regarded as one of the greatest actors of Indian cinema, it is his composure in the face of adulation and adversity alike that lends him great dignity. We have always stated that it is the inner you which is projected through your outer self. There is no better example than Amitabh Bachchan for this simple truth.
When we study the image he projects, we notice that he uses the 4 Elements of Image Management to perfection. For the purpose of this post, we are focusing on his attire and demeanor in his personal life, rather than on screen, since his on-screen persona even if it is on a reality show like Kaun Banega Crorepati (KBC) depends on the objectives of the show and the director's view.
Natty Style – Clean Lines That Lend Dignity
Amitabh Bachchan's attire is picture perfect for each occasion and is chosen with obvious care. From sherwanis to kurta-pyjamas and Nehru collars to western formal suits, he carries them off with elegance and comfort.
When it comes to western wear, he dresses in muted blacks and grays in general with the occasional cream suit. Within these boundaries, he creates his own sense of style. A hint of color stands out almost always, offering perfect balance to the attire.
The true strength of a garment is in its ability to project the best side of the person. Amitabh Bachchan's clothing is immaculately tailored, accentuating his strengths, his height and build while minimizing his weaknesses, hiding the hint of paunch with good tailoring. For the wrinkles about his neck, a scarf, a tie or a Nehru jacket come in handy.
He meets the Style Scale requirements, sticking to the Tailored look for formal occasions with straight lines, angular shapes, strong contrast, crisp fabrics and small patterns. Yet, he adds a touch of his own self with a hint of color. At the GQ Men Awards, his well-tailored black suit was perfectly complemented with black shoes and his trade mark black, round spectacles. Here the color comes from the golden scarf tied bandana style. Just the right length of shirt cuff in bright white, showing beneath the suit sleeve.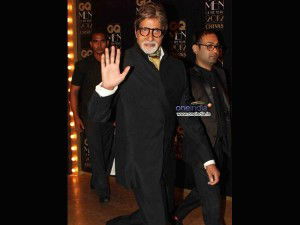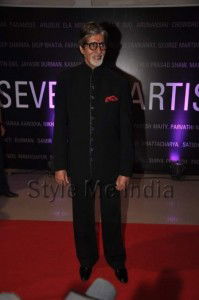 On yet another occasion, he looks natty in a black Nehru Jacket with a neat line of buttons, high-polish shoes and a hint of red with his kerchief peeking through. He uses his ties to perfection to bring the hint of color to his dark suits. The suits themselves are in tailored plains and pin stripes, but it is the tie and scarf that add color to balance the whole look. He also meets the Style Scale requirement of plains, stripes and small geometric shapes when it comes to ties to project the formal look.

Neatly groomed always, with shoes at a high polish, groomed hair, trade mark rounded glasses most of the time, he is measured and careful in his outer persona as much as he seems to be with his inner persona.
He is equally at ease in Indian wear. When it comes to kurtas, he is a familiar sight in pristine white or cream kurtas. As with western wear, here too he meets the rules of the Style Scale. For formal wear, he dons a single color. For more relaxed occasions, you can see him sporting some color in the form of collar, button line or border.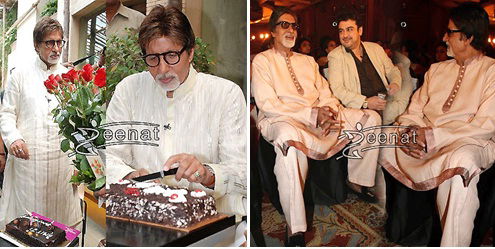 For the Untailored Indian look, he can be seen in kurtas with a shawl casually draped about his shoulder.
Festive occasions are a different matter altogether. He is ready to experiment with fabrics and styles. One can see him in velvet for example, as his sherwani was on his 70th birthday. Yet, the neat lines and perfect-tailoring without a crease still make him stand out.
Body Language
Not only is Amitabh Bachchan a consummate actor who has essayed a range of roles, he is equally at ease on shows like Kaun Banega Crorepati (KBC) in which the role he plays is of himself.
In the reel world, he had followed the body language of Anand Kumar, a Maths wizard and college professor for his role in Aarakshan . His body language in the film Paa where he played the role of a12-year old is very real and life-like. Just as he seems to internalize the character he plays on screen, in real life, he seems to internalize his audience, whether single or a large group, seeming to welcome them into his space.

Known to be an actor who pays great attention to body language, on the show KBC, he exudes a difficult combination of confidence, responsibility and concern with humility. The gestures are minimal, yet it is his open smile, his complete focus on the person sitting in front and his body leaning towards the person that puts the contestant at ease.
This ability to make the other person comfortable comes through in large part due to the complete ease with which he carries himself irrespective of the attire, audience or circumstances he finds himself in.
For all the gentleness with which he treats his audience, his stride is powerful, exuding great inner strength and energy.
The Power of His Voice
Rejected by All India Radio who found his voice too deep for their liking, it is this voice that lends great strength to his image. There are many with a great voice but lack the power that a well-modulated voice can bring. Amitabh Bachchan on the other hand, uses his deep baritone with restraint, giving great effect to the different emotions he portrays.
In real life, what stands out is his restraint in the face of adversity, scandals and such circumstances that surround him. But, when he speaks, it is in a measured tone, the rhythm and pace lending great strength of character and creating a strong impact.
Conclusion
To take a leaf out of Amitabh Bachchan's book is to study the 4 Elements of Image Management itself. Whether it is his clothing, grooming, body language and etiquette or vocal communication, he has perfected the art of image management.
Each of these elements works to perfection because they seem to come straight from his inner self – of simplicity, humility, respect and concern for others. These facets keep him at ease with himself which ultimately reflects in the image he projects, leaving a great impact on others.