Michelle Obama has set a style statement of her own. She makes it clear that it doesn't take expensive labels and well-known designers to achieve this. What it takes is a bit of experimentation, the readiness to mix a known label with an unknown designer to achieve a look that is very much herself, but most of all the poise that comes with being comfortable with herself.
While everyone waited to see what she would wear on President Barack Obama's re-election, she went on stage with a recycled dress in magenta that she had worn twice before topped with a black cardigan. This finale was in fact in line with her style on the campaign trail where she was careful to choose economical items.
Style Statement
The First Lady had always been one to have her own style, this time making a statement of restraint and economy. It goes to show that your style can convey the message you would like to.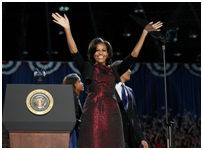 Her statement on happiness and health reflect in her style, "I have freed myself to put me on the priority list and say, yes, I can make choices that make me happy, and it will ripple and benefit my kids, my husband, and my physical health. That's hard for women to own; we're not taught to do that. It's a lesson that I want to teach my girls so they don't wait for their "aha" moment until they're in their 30s like I was (laughs). Maybe they can experience it a little earlier."
Michelle Obama is known to pick upcoming designers for her attire and doesn't hesitate to mix these outfits with some late night online budget shopping. She wears a range of dresses with her trade mark clean lines and feminine shape, using bold or muted colors as per the occasion. Sleeveless sheath dresses and cropped cardigans have become her signature mark.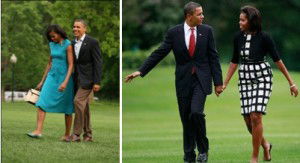 Fashion Icon
Yet, with all her experimentation, the real statement she makes is that it is not about style at any cost, nor that she would ignore style because she has other important things on hand. She uses her clothing and accessories to show that one can carry off their style on budget and despite a heavy schedule if they are ready to experiment and take matters into their own hands.
When asked about her being termed a fashion icon, the First Lady's response is typically about what makes her feel good. "I know what makes me happy. I pick the clothes that make me happy – sometimes people like them, sometimes they don't. I try to listen to my own internal guide. My message to women: Do what makes you feel good, because there'll always be someone who thinks you should do it differently. Whether your choices are hits or misses, at least they're your own.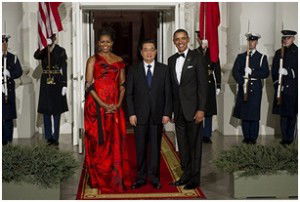 In contrast to President Obama's unvarying classic suits, she experiments with color, pattern and accessories to get the right look for each occasion.
For all that, Michelle Obama does not copy the country she visits blindly. She turns it into a style her own to come up with a dress that speaks for itself in any country and with any audience. The pink and gold dress she wore at the Democratic National Convention is one few First Ladies would experiment with.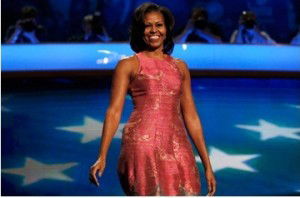 She is at her best when visiting countries, using her sense of style to relate to the country she visits without blindly wearing the attire of that country.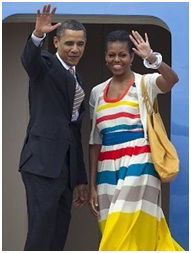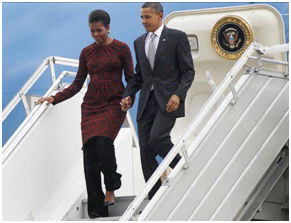 On her visit to India, she kept away from the sari, wearing her version of a long, floor-length garment. She kept her famous arms covered in a long-sleeved tunic worn over a velvet floor-length skirt and a jewel-encrusted waistband.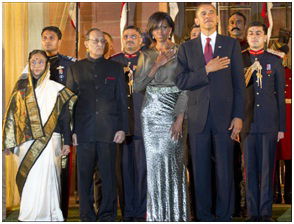 Playing to her Body Shape
Michelle Obama is known for her sleeveless, sheath dresses which are simple in pattern and flatter her height and body shape while offering a perfect view of her toned arms.
With a 5'11'' height, she doesn't hesitate to wear heels, although she brings out a pair of kitten heels or flats when it suits the occasion or the day. She uses her height to great advantage and carries off bold prints with ease.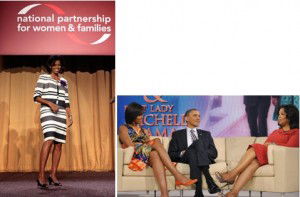 Similarly, she color-blocks extremely well both with bright colors and with pastels.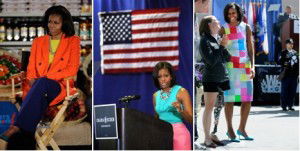 Poetry in Color
The First Lady's attire is not just about herself, but also about the occasion. A student poetry workshop hosted at the White House saw her in a pale pink tank top paired with an embroidered, multi-colored skirt. A ton of bangles on the left wrist completed the poetry in motion.

Promoting a Healthy Life
Michelle Obama is known for her disciplined fitness schedule. At 48, she keeps herself toned and healthy. She has extended this focus on health and fitness to the country's children, starting the Let's Move campaign to end childhood obesity in the United States. Her attire when promoting the campaign in the Ellen Degeneres show and at an NHL event is casual and sporty without taking away the style element.
Inaugural Elegance
Her inaugural dresses and those worn for dinners and ceremonies can range from elegant skirt length dresses to sweeping floor-length dresses.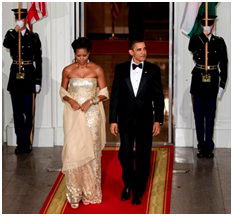 In the end, it is her sense of style and occasion without losing sight of the budget that gives Michelle Obama her poise that is much applauded and has taken her to Vanity Fair's International Best-Dressed List . That she looks good in off-the-rack retail dresses as with designer attire makes her an icon worth following.