Hi friends!! From today we will be sharing a daily update about the wonderful experience of our international trip and also a firsthand account of our workshops with Judith. Hoping sincerely that you will find this as an exciting and insightful as we did…
Nicola checking in at Mumbai Airport

Sabina & Deepti happy to be checking in at Mumbai Aiport

Suman, Deepti, Sabina & Nicola having a cup of tea before departure from Mumbai
20th April 2011
After 19 hours of sleeping, sitting, waiting ….& sleeping, sitting, waiting, we land in LA. Warmly welcomed by the lovely Diana Jennings & our very own Judith Rasband. "Welcome to America" she says fondly. So very glad to have found our feet, we spend the remainder of the day trotting around, getting a feel of this beautiful city, trying hard to cap our excitement with regular reality checks and some deep inhalations exercises. No jet lag whatsoever, we cross a little bridge adjoining Westin Hotel with the South Coast Plaza for a trailer of what was to be a full blown Fashion Tour the next day.
Nothing could have prepared us for what followed the morning after.
Our lovely Suman delighted on finally meeting Judith at LA

Deepti & Devanshi at LA … No jetlag whatsoever despite the 19 hour journey

Deepti takes a picture of the group with Judith and Diana Jennings at the LA Airport

Waiting for our shuttle to arrive at LA

One 'image' two focal points
Day 1
21st April, 2011
8:30am Breakfast at the Pinot Provence. Over breakfast we get to know Diana Jennings- the Professional. In an impeccable colour co-ordinate folder contains the events for the day, yet to unfold. Also, we get a peek into the work that goes into building her 'Brand You Image', her eye for detail, immaculate presentation style both personal and professional, her journey to the success and credibility she now enjoys and most interestingly her work style/ethics.
She readily takes us through start to finish make-over sessions with 3 clients, explaining each step and the thought behind it… sometimes specific just to America but at most times an absolute eye opener. Clearly she gave a lot of importance to 'know your client' and that made all the difference.
11:00am We meet Mr. Werner Escher – Executive Director of Domestic & International Markets & Ms. Lynn Kozlowski Sr. Tourism Marketing Associate to get a first-hand take on what it takes to keep South Coast Plaza up there & how Diana Jennings was an absolute asset to have abode.
Sun kissed at Lagoona Beach

The group lead by Diana Jennings & Lynn Kozlowski – Sr. Tourism Manager -The South Coast Plaza just before the tour
11:30am Tour and history of South Coast Plaza – the most premium shopping destination in the world. Housing either flagship or speciality stores of only the most premium brands… Christian Dior, Yves St. Laurent, Jo Malone, Emilio Pucci, Assouline, DKNY, Intermix, Stuart Weitzman, Bloomingdales, Tadashi Shoji, Sephora, Banana Republic to name a few. What stood out was the level of service and customer care at each store and most of all the passion with which each store manager showcased their brand. Truly commendable! At each store we were greeted individually by the store manager and loaded with brochures/catalogues & goodies.
Noon Lunch at AnQi was a working one with Marketing Strategist, Kelly Weppler Hernandez. This was indeed a welcome inclusion to the agenda as all of us desperately needed to get off our feet and more crucial; we are all about to start a business. Nothing she said was new to us but the very fact that it was all listed and explained so simply and clearly bringing it to the forefront of our conscious minds made it an absolute power package.
3:00pm Post lunch, we caught up with some more brands and then jumped the shuttle to Lagoona Beach. It was an absolutely beautiful day and we were 'click' happy. We got the most amazing sunset pictures of our three beauties Diana, Judith and Suman…. or was it an inner glow?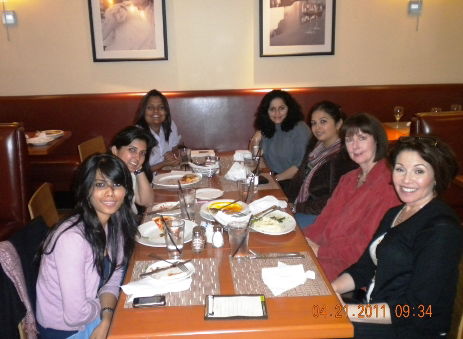 8.00pm Dinner at Maggiano's Little Italy – scheduled for 8pm, we reached there a half hour late… sacrilege by their standards and quite punctual by ours, I see an apologetic Diana whisper something to the lady at the reception. We then get warm smiling hostesses take us to a round table for seven. It was a busy week night I thought. A lot of banter from all around us and I was loving it… the energy felt so much like home. We Indians, are an excited bunch, you will agree. We were served very delicious food and lots of it, I think we looked hungry.
Onto the shuttle, "sensory overload?" Diana kept enquiring.
Back in our rooms …dazed, exhausted yet blissful…we drift off. Tomorrow is a fun day was my last thought.