How often have you been in a gathering where certain women stood out? Often they possess very ordinary looks but they had a gracious charm, a confident smile and genuine attractiveness with a positive image. Your eyes felt pleasant and comfortable and nothing distracted you about her, you felt impressed because they were in control, you were confident that they would have achieved a lot and must be very successful in their lives.
Well………….. "Appearance" plays a vital role in creating a positive "First Impression"
Well fitted tailored clothes always make one feel confident and in control. It gives you a sense of security while creating your importance in the mind of others. It makes a strong statement about your personality and attitude as you come across more professional and productive.
Corporate Chic (By Crystal) talks about some of the Formal wear for women. It has become essential to understand the significance of the kind of attire you have , the way you carry your body in proper fitted clothes and the kind of people you would address at your workplace.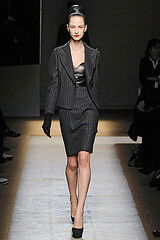 I personally have always thought a woman in a suit is sexy. Something about the power and success she exudes that oozes sex appeal even though she is covered up. This season the Your browser may not support display of this image. designers are agreeing with me and have turned the suit into something so chic that it will undoubtedly turn heads.
Camel hair, tweed, pinstripes, vests, double breasted jackets, suits and trench coats were all over the runways in collections from Chanel, Prada, Burberry and Ralph Lauren to name a few.
Waists were cinched & extenuated legs are bare – if you can get away without tights for this look do it (it's covered up enough on it's own).
A trend that has carried through from last season and is crucial to pair with this look are lingierie inspired pieces.  A silk or lace camisole peaking out from a high-waisted pencil skirt and blazer (as shown with this gorgeous YSL ensemble) adds chic to corporate.
"You don't have to be good looking to look good". You need to be comfortable and confident with your body and skin and the kind of style that you embrace. It is all about feeling good about yourself irrespective of your looks.
For style updates ,log on to https://www.theitlists.com/2009/09/14/corporate-chic/