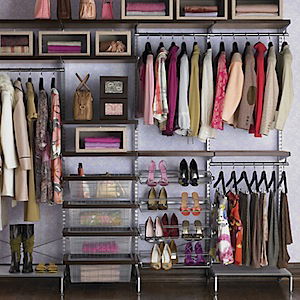 The art of smart dressing lies in building an effective wardrobe and in taking care of it. It isn't just about getting the right ensemble complete with all the accessories, clothing and over wear in the right style,pattern and colour. This approach is not only expensive, but also very limiting when it comes to bringing variety to your wardrobe.
Planning and building your wardrobe can help you cluster your clothing effectively. These two go hand in hand. When you take this approach, you'll find that your wardrobe holds the right ensemble for each occasion with little expense but with great variety.
So, how to organise a wardrobe?
1. Build the Wardrobe Basics
Review your business, social and casual clothing requirements. Make a list of the basics required for each occasion. You may have a few that overlap. For example, a pair of black trousers might be a common element for your business day and the occasional business-social engagement. Color coding such items on the list itself brings greater clarity about what you really have in your wardrobe.
2. Watch the Seasons
Make sure you have the basic items for each season. You may add an extra muffler or two for the really cold winters. Making the list helps you swap them and mix and match with a jacket or a thicker crew-neck sweater rather than investing in multiple items of each category. Such planning also makes sure that you are not caught off-guard when the season arrives.
3.Discard the Unused
The important rule in building an effective wardrobe is to discard clothes that are ill-fitting or ill-suited.It could be the colour, pattern or the fact that while they look good by themselves, they would notfit well within an ensemble. Discard such items. This goes for accessories too. The trouble with many wardrobes is that they are filled with unused items, taking up much-needed space. A cluttered wardrobe is another culprit when it comes to impulse purchases that you would regret later.
4. Cluster Your Clothing
With the overlapping items as the starting point, you can start clustering your clothing. If any ensemble looks monotonous, you can easily bring some color with an accessory. With this approach, take a look at your wardrobe list before you note the fresh purchases you need to make. But make sure that you don't follow trends blindly. Keep your personal style in mind. This helps you take the occasional risk with ease.
5. Buy with Care
The wardrobe list you've built and the clean-up you've just done gives you a clear idea of what you really need. Now, it's a matter of building the discipline to minimize impulse purchases that deviate from thelist. You tend to regret these purchases later. So if you find an item that isn't on your list, check with the list to see if it fits well within an ensemble. If so, be sure of the occasion on which you can wear it.Also, make sure your clothes fit you well. Don't buy an item assuming you will lose the required weight.It usually doesn't happen within a short time frame, by which time you might have lost interest in the item. If you can't wear it today, don't buy it.
6. Storing Clothes
Storage should be in such a way that you can retrieve an item and put it back with ease. This will help you maintain the discipline of putting things back in their place. On the other hand, if you find the retrieving difficult, piles slip, clutter begins and you'll find that your favourite top was lost in a dark corner of the wardrobe for a very long time. Or you'll find that the blouse you were all set to wear today is wrinkled.
Store the lingerie in an open basket. Jeans and corduroys can rest in a neat pile, plus a separate pile for your leggings. Invest in enough hangers. Hang the trousers up. When left folded for too long, they tendto wrinkle from the weight of the items above. But if you have a few trousers that you use every week,you can pile them neatly. Hang up your shirts to avoid creases. Same goes for kurtis. Skirts can be folded into a pile. Make sure that no pile is more than 8-10 pieces high. That's really the upper limit.
7. Storing Accessories
Leave your socks and stockings in a separate basket. Accessories require drawers or boxes in which they are easily visible. Group them by colour to make it easy for you to pick the right piece. Fold scarves and stoles neatly length-wise and hang them over the hangar rod. You'll prevent wrinkles from forming on these soft materials.
8. Take Care of the Wardrobe
Don't allow clothes on hangars to gather dust. Worse still, the stacked clothes cause extra creases on the ones at the bottom of the stack. Make sure you turn them over once in a couple of weeks at least.
Take care of your wardrobe and you've taken care of your style and your purse.