Tangerine Tango, the colour of energy, life and spirit, is the colour of Fall Winter 2012. A reddish orange, it is all about recharging and moving forward with a bounce in your step. It falls between the adventurous red and the cheerful warmth of the yellow, bringing a bit of both to your attire – high energy with a lot of playfulness.
Tangerine Tango is about breaking away from the routine, about bringing in innovation, a fresh new way of looking at things without going to the other extreme. There are great possibilities to the orange.
But orange is not an easy colour to mix and match. It takes an understanding of the color wheel to use the tangerine tango to great effect. You can have a range of casual and evening wear , but you don't need to invest in a whole new wardrobe with this unusual shade. Here are a few tips to make your wardrobe meet the colour of the season.
Tango by the Wheel
Before we move to Tangerine Tango, let's take a moment to understand how the colour wheel works. Red, yellow and blue are the primary colours. All other colours are formed out of a combination of these three primary colours.
Mixing any two primary colours gives us the secondary colours – green, orange and purple. With that, let's look at how we can match the colours for tangerine tango.
Analogous Colours
Two colours that are next to each other are analogous colours. For our purpose, red-orange is analogous to orange. Orange is analogous to yellow-orange and vice versa. Yellow is analogous to yellow-orange and so on. You can wear analogous colours when they are of the same intensity.
When mixing orange and pink, make sure the shades are analogous on the colour wheel, if not you wouldn't get the right match.
Complementary Colours

Colours opposite to each other on the colour wheel are complementary colours. For example, blue is complementary to orange. Blue-green is complementary to red-orange. Use complementary colours to create high contrasts.
For the casual look, pair an orange tee with blue jeans.
Safe Bets
White and black go with most colours. And they go well with tangerine tango too.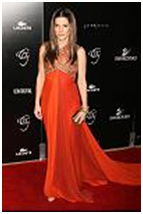 Brown is a neutral colour and can be used with most colours. Make sure you balance it well.
Accessories
The same rules of the colour wheel apply when it comes to accessories. Each of them can serve as an excellent tangerine accessory. It can be your scarf, shoes, lipstick, belt, handbag or jewellery. Just match it well with your attire and you are ready to tango!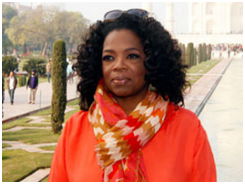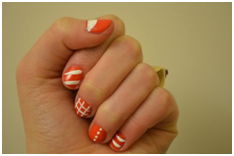 A tangerine scarf can go over a great evening dress or casual jeans and tee to make your bold statement.
You might choose an all-orange dress, but complement it with the accessories. Same goes for make-up too. See the orange and white nail polish in the image.

Caution
Watch your body shape and skin tone before you choose the outfit. For dark skin shades you may want to keep the orange away from the face. Match an orange skirt with a black top or a cream or white shawl.
Match your orange with the right shade on the color wheel, mix and match the accessories and attire and make sure the combination is right for you. Now you are ready with your tangerine tango all winter!