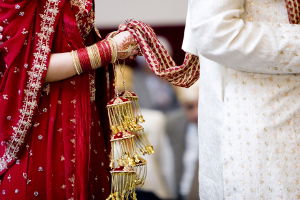 So, what a bride should wear on her wedding day? The answer is Lehengas….
Lehengas are the most popular bridal wear. Even when we go down to South India which has been a wholly sari country when it came to weddings, now the trend is to stick to a sari for the wedding but flaunt the lehenga for the reception.
Lehengas can give you far more flexibility than a sari can since it carries 3 elements – a skirt, a choli and a dupatta – when compared to the sari's 2 elements. Learn the basics to make the best use of this flexibility. But combining these three elements and handling the bridal lehengas in reality, especially since they come in a lot more fabrics and colors than saris, make it a fairly complicated affair.
Color
Although red and maroon have been traditional bridal colors in the north, today's brides are quite open in their choice of color. Peaches, pinks, oranges, yellows, greens, blues, even cream and white with gold or silver work have now become popular. But, white is avoided due to its association with inauspicious occasions. You can wear them entirely in these new age colors or just add a touch of these colors to the ever traditional shades of red.
While lighter shades are considered for summer weddings and slimmer built brides, they also add a beautiful glow to wheatish or darker complexions. On the other hand, darker shades are for winter weddings and heavier built brides providing a lovely contrast to their fair complexioned skin. For more detail, see our post "What to Wear on Your Wedding – Saris".
Fabric
Light fabrics in cool colors are right for summers. Chiffons and Georgettes are light and drape well. But for a winter wedding, you can go for the expensive silk or the inexpensive satin. All these fabrics drape well, but if you have a slim build you can wear one in organza or tissue and look really good. Other options include net with a good satin or chiffon lining or brocades. Wear the lehenga and see and feel the drape for yourself. Consider comfort also since you would be wearing it for a good few hours.
Styles
A choice of lehenga styles is now available. So choose depending on your body structure. Make sure it keeps you comfortable since the wedding ceremony involves sitting at ground level. So, narrow styles like fish tail lehenga may not be suited for the ceremony itself. These trendy ones can be used at the reception and other occasions where no religious ceremonies are involved.
Fish Tail or Mermaid Lehenga
– Fitted to the body from waist to knee, it flares from the knee to the foot. It enhances the waist and hips, so is only to be chosen for brides with an ideal figures and gentle curves. This fit however, may not be comfortable for the ceremony itself since it does not room for much movement. You are better off wearing it during the reception period only.
Flared Lehenga
– With tiny pleats at the waist and greater width towards the hem, it is extremely comfortable. Best suited for thin brides who want to show some bulk.
A-Style Lehenga
– This is quite comfortable for the ceremony if patterned well. Although it flares from waist to foot, the flare is more pronounced from slightly above the knee. With straight-lined or triangular panels from above the knee to the foot, they give enough legroom to walk or sit during the ceremony. It differs from the Fish Line lehenga as the skirt is not fitted till the knee but with a lot more ease.
Straight Cut Lehenga
– This one runs straight from waist to foot.
Looks good on all body types and is comfortable for long hours. Circular lehengas are similar to this.
Paneled Lehenga
– It is a composite element used with the Fish Tail or A-Line Lehenga to add pattern to the flare. The panels can be narrow or wide, depending on the design and brings some comfort to these lehengas.
Sharara
– Lehengas that aren't skirts, but carry wide, pleated trousers are shararas and are worn by muslim brides. Choli is usually long, reaching well below the hips.
Cholis
Cholis for lehengas come in a variety of neck shape, sleeve length, back design, fasteners and length. Basic rules remain. If you are heavier around the shoulders, wear U or V-shaped necks. Slender-shouldered brides can go for boat-shaped or other variants of wide necks. Sleeve length can be anything from sleeveless to very short to long sleeves that end above the elbows. Short sleeves look good on slim arms. But if your arms are heavy, go for the longer versions.
From backless to fully covered backs, cholis come with some funky designs. In terms of fasteners, whether to use hooks, knots or zippers depends on the design. Check whether they are secure and comfortable without biting your skin, particularly hooks and zippers. Length of the cholis can be very short showing the midriff, above hips or below the hips. Choose the length based on the design of the entire ensemble, your body shape and family custom.
Dupatta
There are many light fabrics in dupattas or odhanis, as they are called. And the many styles of wearing them too. Choose a style depending on the choli, lehenga and your body shape. But general rule is to go for a lighter dupatta and heavier lehenga. This kind of weight distribution is easier to handle than having a heavy dupatta on your head for long hours.
There are many ways of wearing the dupatta – like a sari with pallu from front to back; the gujarati style with pallu over the right shoulder from back to front; over the head; pleated with one end over the shoulder and the other half being carried over the other arm like royalty and many more. It is up to you to be creative and decide based on the look you want to achieve and your family tradition.
To conclude, look for comfort, style and balance and you will be spot on for the big day.