Traditional bridal wear in India has two broad categories and we shall cover these in our posts: Saris and Lehengas. We are not talking of designer wear here, but of outfits that don't take up a chunk of the wedding budget, yet give you that very special feeling.
This post is about Saris and how to choose the perfect bridal sari. Although the style, fabric, pattern and color of the wedding sari differs from region to region, and in many cases, from state to state, there are many common factors in choosing the bridal sari.
If you take care of the basic elements, the rest will take care of itself.
What Color Sari?
Once you take into account the season during the wedding, your complexion and body structure, you can make an excellent choice of bridal wear that is just right for you and looks good in photographs too. Many times, we forget that in addition to looking good on the big wedding day, it is as necessary to look good in the photographs because they are what make for very happy memories. I have a friend who looked so good on her wedding day in a pale pink sari but after over 15 years of marriage, she still can't forget the fact that the photographs made her look washed out.
Winter weddings demand darker shades. Pastels, light shades of pinks, oranges and other colors go well with the summer. But you can always balance a deep red sari with a lot of zardozi or light-shaded embroidery making it summer perfect.
If your complexion is wheatish to dark, go for pastels and lighter shades. And if you are fair complexioned, go for darker shades or the photographs will make you look washed out. If you are keen on colors like pink, make sure you make it a darker shade of pink.
Fortunately with saris, the drape takes care of most shapes and sizes. But, still some care is needed. If your body structure is heavy, dark shades cover the heavier parts well. If your sari has two or more colors, make sure that the dark shade covers the heavier part of the body. For example, if you are heavy around the hips, the sari color here should be a dark shade. If you have a slim structure, light shades are fine for you.
Choli
When it comes to the color of the choli, go by your complexion, the design of the pallu and your jewellery. Don't buy a set just because you like the sari. Sometimes, a less preferred set may end up looking good simply because it's a better combination of sari and choli. Coming to body structure, if you are heavy in the upper body with broad shoulders, choose a darker shade for the blouse to tone down the heavy effect. Also, avoid wide-necked blouses in such cases. On the other hand, if you have a slim upper build, go for a broad neck that shows off your shoulder bone.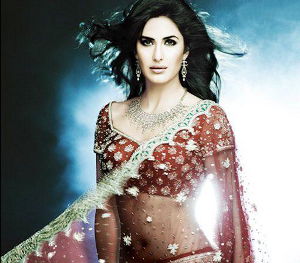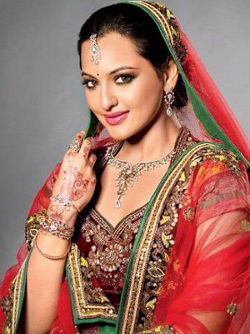 When it comes to arms of the choli, slim ones can carry off short-sleeved blouses very well. But thicker arms require a slightly longer sleeve to the blouse. Please note that when you have shorter sleeves, the sleeve is slightly loose and stands out. If it's tight, it gives a pulled look that doesn't do much good.
While we are on the topic of blouses, it is a good idea to have soft underarm pads for the blouse. While you may use an antiperspirant, it still is a good idea to have them since silk tends to heat you up particularly in the glare of high voltage lights used through the ceremony for photography and the video shoot.
Design
No bridal sari is complete without zardozi or embroidery. You can choose a single-toned sari or a two-toned sari to give a bit of contrast, but most times, the zardozi or embroidery can achieve that second color with great elegance and a rich look. With them, you can move away from the traditional colors by inserting a bit of turquoise, yellow, violet or any color. It could be by way of the thread or stones or patch work.
When deciding whether the pattern suits you, take account of your height and structure. If you are tall and slender, you can have a pattern that divides the waist-to-foot part of the sari horizontally. But if you are short or heavy, choose one with a vertical design and delicate patterns. This gives you a taller, slender look.
Vertical Design Sari
Now, coming to how heavy the work can be, wedding saris can have heavy work and look good. But give it enough breathing space. Let it contrast well with the color of the rest of the sari as well as with the blouse. You could have a mid-sized pattern – neither too heavy, nor too light – all over the sari. Or you can have heavy work on the choli and from the waist below on the sari, leaving the pallu plain as a contrast. Or do it the other way round.
Heavy Design on Choli complements a 'no-work' pallu
Balance the sari, choli and jewellery to suit your body and have the perfect wedding day.
Our forthcoming posts give you advice on How to choose a lehenga for your wedding dress and planning your wedding ensemble.