There's more to buying your bridal wear than to just purchasing a sari or a lehenga. Bridal wear can cost anywhere from a few thousand to lakhs of rupees so you need to set a budget, plan it early and take minute care of the many small things that will go into making it the perfect wedding dress.
Jewellery
The days of fully gold or diamond Jewellery are long gone. Brides' today experiment with a range of colors, designs and mixed elements. If you are considering made-to-order Jewellery, make sure the designer sees your sari and comes up with a design that complements it. And if you are buying ready-made Jewellery, take the sari along to make sure the Jewellery goes well with it.
Many times, the Jewellery mimics not just the color of your bridal dress, but also its design work. This is a more complicated and possibly expensive affair, but produces excellent results. You can go in for modern yet understated style or for the chunky look of the past. You can do a single piece of neck Jewellery or pile on the tiers. It all depends on how well it balances out with the outfit without looking out of scale, proportion or harmony.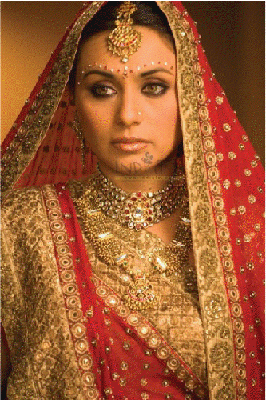 Buy it Early
Choose your bridal outfit well in advance – as early as 9-12 months. Much earlier if you decide to choose zardozi, embroidery or any other work that is specially done on the sari. The early buy also gives you enough time to get the choli stitched and leaving adequate time for alterations. Although cholis do come in matched with the sari, there is always room to get a bit of zardozi or embroidery done to complement the sari and the Jewellery and this is best done with time on hand.
Then, there's the issue of buying matching accessories, from shoes to jewellery so that the entire ensemble is just perfectly made for you. This is especially important if you are getting made-to-order Jewellery in which case each piece has to complement the sari – from the style of Jewellery to the color and stones used. For example, if you have a maroon outfit with elements of green in the embroidery, you may want to have gold Jewellery with green as the dominating color but picking up bits of the maroon as well. Even if you are using traditional Jewellery that belongs to the family or are buying readymade Jewellery, you still need to match it with the sari. So you'd be making quite a few trips to the jeweller and time is the factor yet again.
Watch the Small Things
Generally, wedding saris carry sufficient length to cover the tallest of Indian brides. But if you are over 5'6", do check whether the width and length are adequate. In case of lehengas, never ask someone else to buy them for you. Even if you are short on time and are getting arrangements done by someone else as is in the case of many NRI brides, ensure that the outfit is a couple of inches longer and wider. You could always have it altered to size later. If you are shopping yourself, try the lehenga on before buying. Also, wear the outfit in totality with jewellery and shoes and all other accessories at least once before the wedding, in order to avoid emergencies on the big day.
Check the zardozi or embroidery to see if it is done well without the metal wire or threads coming out. Wear the choli to see if the zardozi irritates your underarms, since the work could be all over the choli. Just remember that if you are getting married in the winter season, zardozi being metal wire might create static electricity, giving you tiny unpleasant shocks every once in a while.
Is a Sale On?
On Sale marked bridal wear can give you a good wedding sari or lehenga without carrying a heavy price tag. This may be because they are of an unusual colour or carrying a design from the earlier wedding seasons. But bridal wear is generally classic in nature and looks good for many years. So long as you choose what looks good on you, buying it On Sale is no problem. It may take you a bit more search for the right ensemble, but we've seen perfectly good wedding outfits being picked up in a sale.
One word of caution though– Buy it only if it feels right. You might wear the dress just once in your entire life but you will cherish this memory forever. Photographs too are a constant reminder. Take advice from your mother, cousin or friend whom you must take along with you. They are good sounding boards.
Now, go ahead and enjoy that perfect wedding day.