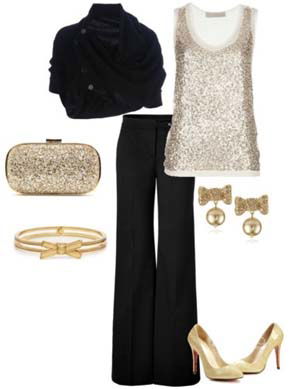 You're all set to party the night away and bring in the New Year in a grand way. But, what are you going to wear? New Year's Eve (NYE) is one the most stylish events of the year and you definitely want to look your best. An NYE party is surely not an event where you want to dress up in the most simple manner possible, add some glam and shine to your outfit.
Here are some options that you can consider while planning your outfit for you NYE party:
You can transform a basic little black dress into an outfit that will make you the star of the party. The best way to do this is to pair your dress with a bright bold statement piece necklace. Add a little sparkle to your look with a sequined clutch. Another way to create a pop in your look is too brighten up your look with a bright pair of heels in accent colors.
If black is not your thing, you can wear a dress or separates in bold colors, such as a bright red. Add a pair of matching heels to this outfit and you're all set for your party. Why not experiment with the color of the year 2014 – Radiant Orchid?
Add some shine to the party with a sequin dress. These embellishments are definite must have for an NYE party. You could either go with an entire sequin dress or a sequin top with a basic black pair of trousers. Wear accessories that are smaller in size, as the sequin already draws a lot of attention. You can carry a clutch with a sequin in the same color as your outfit.
Bold prints are a great choice for a festive night, especially when they're more than just standard patterned fare.
While deciding on makeup, go for colors that match your outfit, if you're wearing something in bright colors. If you're wearing something basic, then wear makeup in bright colors to add a pop to your look. You could also wear shimmery makeup to give yourself a glam look.
Wear shoes that are not only glamorous but  also comfortable if you're planning to party the night away, as you don't want your feet to hurt too much the next day.
These points should definitely help you look like a glam diva for your NYE party.
Happy New Year!