World Image Day will be celebrated on 7th December this year.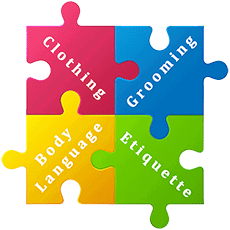 As many of you may be aware, a lot of people have a misunderstanding that Image is only about one's clothing or the way one appears. Clothing is definitely one aspect of Image, but the image has other important aspects to it as well – grooming, body language, and etiquette. Each of these aspects plays an equally important role.
This year, let's make a pledge to ourselves and ensure we make 1/3% change in our image every day, therefore, within a year we can bring about 100% change to our image. And when better to start this change than from 7th December 2013.
Here are some basic pointers to keep in mind:
Dress as per your roles, goals, and occasion
Select colors that will compliment your personal colors
Select garments that will hide any figure variations and enhance your shape.
Recycle and discard any garments you may not use regularly.
Ensure that you take good care of your hair and skin, and follow a regime that works best for you.
Display a positive and open body language, which conveys the right message.
Buy clothes that you need and do not buy garments on impulse.
Maintain personal hygiene at all times.
Ensure that appropriate accessories are used to match your look.
Etiquette as per the situation is followed – business, communication, dining, etc.
You project the right image, always.