How often do you see a man try to stuff all these possessions in his pockets? His pockets are stuffed with keys, wallet, paper, and whatnot. It's not a very flattering sight, is it? So why don't men carry a bag? Most men think it is rather feminine if they carry a bag because they feel it may appear like a purse. But that is not the case if you pick the right bag for the right occasion.
Here are some bag options for working men:
Briefcase:
The briefcase on the oldest known type of bag that men carry. The classic shape (without the sharp corners), buckles, leather exterior, and practical interior compartments help make this bag a timeless addition to any working man's wardrobe. This bag goes with all formal attire and is to be carried in formal work situations.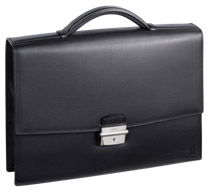 Messenger bag:
The messenger bag, as the name suggests was traditionally used by messengers. The bag is usually made from light leather or a material with the compulsory shoulder strap. This kind of bags are usually associated with classic but sophisticated, laidback style for everyday.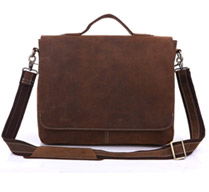 Carryall or Holdall:
This bag is used as luggage for short 1 or 2-day trips. Its design is inspired by the duffel bag, but its predominantly leather exterior.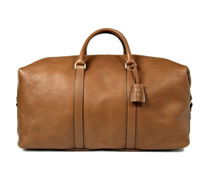 Tote:
A tote bag is the rectangular or slimmer version of the carryall. The bag can be carried with one hand or the worn over one shoulder. This bag is basic in design, therefore giving it a classic look. We can be carried in work or business situations.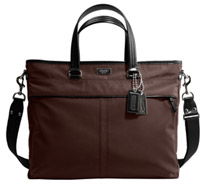 Newsboy Bag / Satchel:
It's similar to the messenger bag's style, but its traditional canvas exterior makes it a little less formal than the latter. It comes with a strap, which is worn over one shoulder. This type of bag can be carried in informal situations.