Any time is a good time to talk about jewellery as they can accentuate your look. It is particularly important to talk about them at festival time. With Dussehra and Diwali round the corner, it's definitely time to talk about jewellery.
While earrings frame your face and accentuate your best features, necklaces bring focus to your neck and more. Don't forget fingerings and bracelets, they can accentuate your hand gestures in a very attractive manner. Jewellery isn't only about highlighting your positive aspects, they do a good job of drawing the eye away from the problem areas too. It's very tempting to buy the latest in fashion jewellery, but pause and think whether it suits you. Also check whether you are allergic to the metals used in costume jewellery.
Earrings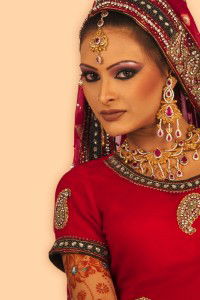 When you buy a pair of earrings, take into account your height, neck length, face shape and hair style. Long earrings look good on tall women and those with long necks. Wide earrings tend to make short women look taller. Your earrings should contrast the shape of your face. Those with thin faces or rectangular or square faces would look best with hoops or rounded designs. Dangling earrings look good on round faces. Wearing round earrings on a round face makes your face look rounder. In addition to the dangling ones we just mentioned, use rectangles, squares or oblong-shaped earrings. This applies to women with full figures and plus-sized women too.
If you happen to have a heart-shaped face, wear earrings with a wide-bottomed design like shells to take attention away from the pointed chin. Similarly, short women can wear shell or wing-shaped earrings to make them look taller than they are. Take into account your hairstyle before choosing the earrings for the day. If you leave your hair long, you are likely to need longer earrings. Short ones will do well for short hair styles.
Necklaces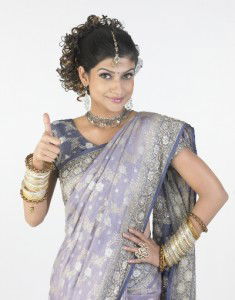 It is common knowledge that necklaces enhance the look of one's neck, chest and bust, but not everyone knows that necklaces also highlight one's waist. When choosing a necklace, consider your height, length of the neck and your body shape. Chokers look good on tall women and those with long necks. They give a shorter look to the neck bringing in balance. Rectangular and heart-shaped faces would do well with u-shaped necklaces. In case of the latter, they soften the sharp or pointed chin. Longer necklaces lengthen round and square faces. For women with full-figures, longer necklaces which go past the bust line draw attention away from the full figure. They give a sense of height making the full figure look slimmer.
Finger Rings
Don't forget your fingers. Women with long fingers can choose from almost any style of finger rings. Again the rule of opposites applies when choosing a finger ring. For thin long fingers, wide bands and round or oval shaped-finger rings are appropriate. For short fingers, go for thin finger rings, else they make the fingers look shorter than they are. The rings shouldn't go past the knuckles and they can be set with a stone or gem. If you don't follow this guideline, you'll end up having your short fingers look shorter and stubbier.
Bracelets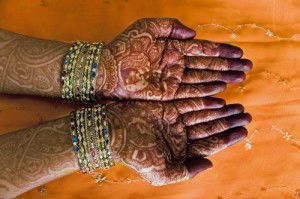 Choose your bracelets and watches with care. When you wear thin bracelets particularly just one of them, your wrist would look thicker. So use them when you have a narrow frame. Those with a full figure and thick wrists can go for wide bracelets. When we advise wide bracelets, it isn't necessary that you go for a single bracelet. You may choose to wear two wide bands. Women with full figures can wear many bracelets with differing width. This draws attention away from a thick wrist.
In the end, it's all about the confidence with which you set your foot forward. Everyone has flaws. Don't let your flaws lower your confidence. Wear appropriate jewellery based on your body shape and walk with confidence.