The big festival season is upon us with Dussehra and Diwali. Festival time isn't only about buying new clothes or about buying gold on the day of Dhanteras.
It's time to take a look at your accessories too. The right accessories can lift your look, both Indian and Western. You can go completely Indian in your clothing and accessories, or complement a Western outfit with some very Indian jewellery and look festive during this season. In this article, we discuss jewellery, aaa replica handbags, belts and shoes.
When selecting accessories for an occasion, it is important to choose your focal point so that you balance the accessories with your attire and project the chosen image.
The focal point is the central point of interest which draws people's attention to itself and highlights your chosen feature. When people look at you they need a resting place to hold their interest. Without this focal point or resting place, their eye moves on. When you make the conscious decision regarding your focal point when choosing accessories, it helps you project an image that draws and retains attention.
Jewellery
The basics of choosing your jewellery are valid even for festive jewellery. Opt for shapes that are not the same as the shape of your face – long, dangling earrings for round faces, chokers for long necks and so on.
When we talk of festivals, we are referring to colour and brightness. You can get away with brighter jewellery which you wouldn't wear on other days. Choosing jewellery in gold or silver brings that festive look. For evening wear, whether it is the garba night your office has organized or a family occasion, you can take out the gold and silver items. Gemstones provide color and help you match your accessory with your dress. You don't need to wear jewellery in the same color as your dress. You can wear them in contrast too. If you go for the bold look with large bracelets and necklaces, don't wear delicate pieces at the same time. When you choose such jewellery, stick to a solid color and simple patterns and designs for our clothing.
In case you are wearing western outfits to office or for the party, tone down the heavy bright look. The guideline is to keep it simple for office wear. The main element must be delicate and unobtrusive and the smaller element can be traditional. For example, you could be wearing a delicate platinum or gold necklace, but have a traditional look pendant with it. You can mix metals like gold and silver and still achieve a delicate and formal look.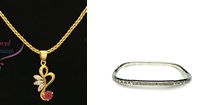 Watch Penelope Cruz with her single strand of diamonds which draws attention to her slender neck and shoulders. Similarly, the thin bracelet highlights her slender wrists, although the bracelet is worn only on her right arm. In this manner, Penelope Cruz successfully highlights her positive attributes by using them as the focal point.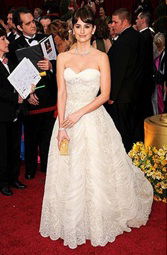 For evening wear, you can go for brighter, heavier elements in both. But make sure that your jewellery complements your body shape and the outfit.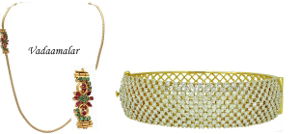 The concept of focal point can be used to minimize an attribute too. The hoop earrings in the image balance the pointed chin and the thin face of the model, giving her face a wider look.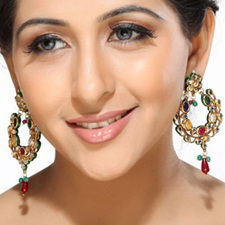 Handbags
From the very basic single colour clutches and handbags to the fully-jewelled ones, you have a range to choose from. When we refer to handbags, the main element is the bag itself. For office wear in western and Indian style, stick to the formal colour of black. But you can lift the look with a touch of metal or stones set in the bag. Your bag will then retain the formal look while giving due credence to the festival days.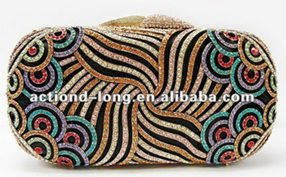 For evening wear, go for the jewelled clutches and handbags. When you choose a bag with heavy work or multi-coloured pattern, choose clothes in single colours and simple patterns. Otherwise, you will end up creating a very cluttered look. If on the other hand, if you are using a heavily designed dress, choose a fairly plain bag or clutch with just a touch of brightness to it.
Belts

When chosen well, belts offer a great look, accentuating your waist and complementing your attire. For office or western wear, choose belts in formal colours. But you can add a touch of metal or stone to bring out the festival look. But keep it to the minimum and only for days when you have a pre-festival office celebration.
For evening wear, go for the jewelled look even for western wear. But let the belt complement the colour of your attire. Silver goes well with whites and blacks.
When choosing the belt, be sure of the image you would like to project. In this image the belt is used not so much to accentuate the waist as to draw attention to the slenderness and height of the model as well as the long, flowing nature of the gown. The focal point or the main attribute here is the height and the slender look. So it makes perfect sense to go for a jewelled belt that complements the gown and doesn't cinch the waist.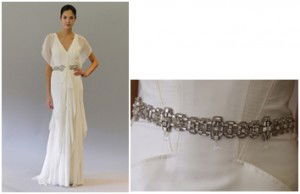 If you are wearing a belt with multi-coloured jewels, make sure it complements the colour of your attire. You could wear a black belt with a multi-coloured outfit and choose to set the belt with stones to complement the outfit. In this image with Dita Von Teese at Cannes, the focal point is her cinched waist through a wide belt with jewels on it.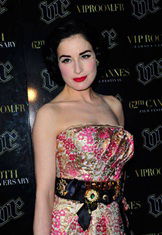 Although Dussehra is gone for the year, we decided to include garba jewellery in this post because a discussion of festival jewellery is never complete without it. For a garba night out before Dussehra, you can choose from a range of dangling waist belts in silver or gold set with multi-coloured stones. Again the belt you choose depends on your waist line and your outfit. For thick waists, choose belts at your waist line. For slim builds, you can have low-hanging belts.
Shoes
We recommend that you stick to formal shoes for your office wear. But when it comes to evening and casual wear, the sky's the limit. A range of jewelled, multi-coloured and tribal-look shoes are available that can give you a festive look. Match them carefully with your attire. As for the heel, it's all up to what you can carry off.
If you are up for a sporty festival look, then jewel-encrusted shoes are the ones for you.
From the extremely bright and festive to the delicately balanced festive-office look, you have a range of choices. Remember the guidelines. For formal office wear or western wear, balance the look by leaving the larger element in an understated colour, but give it a festive touch with the smaller elements. For western evening wear, you may need to choose single-coloured accessories based on the colour and pattern of the dress. For any other evening wear, you can go all out with the festive look. So go ahead, lift your look by choosing your accessories with the festival in mind and have a great time.