Men have come a long way in dressing up for festivals. Come festival time, a host of kurta-pyjamas and sherwanis make their way to men's Diwali festival shopping list. While these bring plenty of range and excitement to the festive season, festival shopping for men doesn't need to end here.
What's a good pair of silk kurta-pyjamas without the accompanying accessories! We are talking of stoles, buttons and shoes for men.
Stoles
Call it a scarf, stole or shawl, a range of silk, woollen and cotton ones are available for men's festive wear. In all likelihood you might want to buy a stole that comes with the kurta-pyjama or sherwani for the perfectly-matched look.
On the other hand, you can experiment with just the few festive ones in your wardrobe. A cream, a white and a maroon stole will be required to go with most festival clothing. But depending on the choice of colour of your attire, you can buy a fresh new shade too.
Whether you go for a plain, tasselled, embroidered stole or a stole with a vertical or horizontal border, the entire outfit must look well-coordinated and that doesn't mean that the stole has to match the shade of your kurta or pyjama. It can be in contrast too.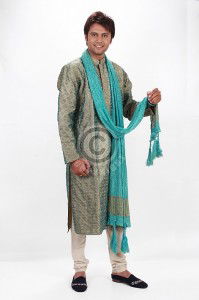 In terms of the material, you have a range of silks in tussar, crushed silk and more. Woollen too offers great variety, but there's nothing that beats a pashmina. Cotton stoles are good too when they come with glossy finish. Embroidery, heavy or light is another good way to set your stole style.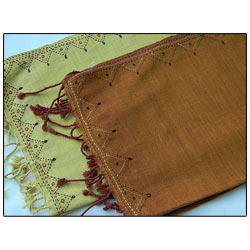 Shawls are a great way to make your look casual or formal. See director Imtiaz Ali in the photograph. The casual throw over the shoulder and the bulky look that only a shawl can give, looks perfect and goes with his easy gait too.
Buttons
Buttons are a great way to accessorize your festival outfit. Most kurtas aren't pre-stitched with buttons. Instead you have to push the button through the holes on one side and then through the other side of the kurta. This gives you a chance to accessorize your attire with a range of festive buttons.
Invest in black, maroon, brown, gold and silver buttons. If you have the money and the inclination for them, the expensive jewelled buttons can jazz up an otherwise plain outfit. At the really high end, you have buttons made in gold and diamonds.

You can get hand-crafted wooden and horn buttons too which set you apart. Choose the buttons depending on the look you want to give yourself for the day. Jewelled buttons go well with gold or silver work on your kurta-pyjama or sherwani. Hand-crafted ones go well with the plainer outfits.

Shoes
Joothis or mojaris and Kolhapuri chappals are still the staple complement when it comes to a traditional kurta-pyjama or sherwani. Made of leather and embellished with nails, shells, mirrors, beads or embroidery, joothis and mojaris can come as jazzy as you want. Make sure they match the colour of the pyjama if at all and not the kurta or sherwani. Another guideline is that when your attire is heavy with embroidery or zari work, tone down the work on the shoes. On the other hand, when your attire is plain with no design, you can wear footwear with heavy work on them. You can wear them with or without the pointed, up-turned toe. Many prefer it, some don't, it's a matter of your preference.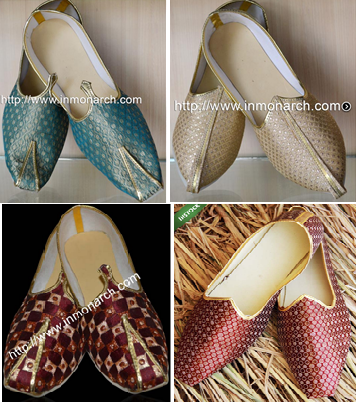 You can also turn to kolhapuri chappals. Try them out with your kurta-pyjama or sherwani and see whether they go well with the particular attire. They give a more casual look so choose them if that's the look you want to sport.

Using these three elements, the stole, buttons and your footwear, you can bring a great style that is all your own to your festive outfit. Miss any one of these and the look will lack the finer element. When choosing your festival outfit, check your wardrobe for these accessories before you go shopping for your festive clothing. Remember, a festival is a great time to add to your collection of stoles, buttons and shoes too.
Happy Diwali and have a great time!