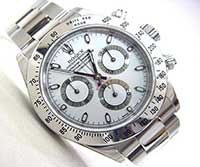 A watch is a very important accessory for a man. A watch completes the look of a man, but the wrong watch can spoil the entire look. A few things to keep in mind while deciding which watches to wear or buy are:
Whenever you're wearing the watch – day or evening: It is preferable to wear a grey, silver, or black watch during the evening and a gold or brown watch during the day. If you prefer bright colored watches, it is best to wear them during the day.
Where will you wear it: If you're looking to wear a watch for formal occasions, it is best to go for an analog watch with a leather or metallic band. A metal band is always higher on authority than a leather band. Sporty watches with a plastic band are to be avoided for formal occasions. For casual occasions, you can use an analog or digital watch.
While wearing a watch, ensure that it fits well. The watch shouldn't be too tight leaving a mark on your skin or too loose where it moves up and down your wrist with any hand movement. The watch should fit snuggly around your wrist.
While investing in a watch, it's always best to avoid fads and buy a replica watch that you feel suits you the best. Watches have their distinct styles and say a lot about you, so go for a watch or a brand that speaks volumes about you.
It is generally a good idea to invest in a watch that you know will last you for years and you may be able to pass down to your children someday. It is best to invest in a watch that would suit your budget.
Finally, don't forget to maintain and take good care of your watch because it is an investment.