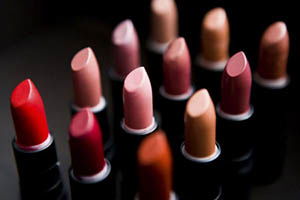 Walking up to a makeup counter, you are flooded with a variety of options when it comes to buying lipsticks. There are so many colors and types, for someone who is buying a lipstick it can be quite a challenge if you already have a lot of lipsticks or this is the first time you're buying one. Oh, the despair!
Start with looking for shades that are a shade or two darker than the color of your lips.  To be able to determine this, wear the lipstick on the lip and check whether it is a shade or two darker than your lips. While trying on a lipstick, ensure that you have removed the previous lipstick that you were wearing before trying on a new color. We normally tend to try a color by testing it on our hand, but we never get a complete idea how a lipstick would look on us. The background color of the lip is different from the hand color and hence, the effect of lip shade would be different on both.
Also, ensure that you see how the shade looks on you in a well-lit area.
Shades of red or pink are the best colors to go with as they work well with any skin tone. Unfortunately, many women are scared of the color red and avoid wearing shades of red. The fact remains that red is a color that anyone of any age and skin tone can use. It's only a matter of using the right shade.
For fair skin: coral, dark reds, and reds with pink undertones. Avoid browns.
For medium skin: Pink and cranberry shades, and brick reds. Avoid bright reds.
For dark skin: Reds with burgundy or brown tones, and deep reds.
To create a contrast you can wear a cool color if you have a warm tone and vice versa.
To make your lips look bigger or fuller, use a lip-gloss along with the lipstick.
If you've already bought a lipstick and are not happy with it, don't throw it away or avoid using it. Instead, you could blend it with other lipsticks to create a shade that looks flattering.
While buying a lipstick, it is always good to invest in a lip liner as well; this will give your lips a well-defined shape. Coating your lips with a lip liner before applying the lipstick is a good idea as this will help ensure that your lips have color on them even when your lipstick fades.
And if you're ever in doubt, there are always professionals at most makeup counters who'd be happy to guide you and help you.
"If I had to teach someone just one thing about lip color it would be this: Find a lipstick that looks good on your face when you are wearing absolutely no makeup." – Bobbi Brown