One of the typical threshold situations we referred to in our introductory blog is of home makers entering the professional world, a situation faced mostly by women. This is different from the near-universal nature of threshold situations faced by students and professionals in general or of marriage as a personal threshold situation.
You could be entering the professional world after being a home maker for a few years or even for decades. The longer you have been a home maker, the more difficult it becomes for you to cross the threshold. But, don't let that put you off this path.
'Women need to shift from thinking "I'm not ready to do that" to thinking "I want to do that – and I'll learn by doing it",' says Sheryl Sandberg in Lean In.
You must build the necessary confidence, family members must make new adjustments, you may have to weather negative feedback and comments, but above all, you must prepare yourself to step into a new world.
It could be to start your own consultancy, to be an image consultant, or a fashion stylist or fashion designer. It could be to start your own business, like a garmenting business or share trading, which many home makers undertake successfully and which you might now want to convert into a consulting opportunity, or any other. You could be seeking a job in a company or an institution. Or you could turn into an artist, to be a singer, writer, painter, sculptor, among others.
You might be entering the professional world without prior work experience or you might be doing it after a long break from work. Typically, first time professionals need more preparation. On the technical side of things, it goes without saying that they would benefit with a training course either as a full exercise or as a means to brushing up their earlier knowledge.
Elements of Image Management
As important as this preparation is, the need to manage your image so that you inspire confidence. Employers and potential clients are assessing your capabilities for a certain position or the solution you offer. You need to work towards projecting an image of power, confidence, competence, quick understanding, sharp intellect to gain the confidence of colleagues and clients.
To do so, you must project a positive image in order to create positive first impressions. Let's start from the basics of the 4 elements of image management which will help you do just that.
Clothing: It is more than likely that you need to switch gears when it comes to your clothing. What goes for social and casual situations as a home maker does not go for professional situations. You will need a wardrobe that takes care of your professional clothing requirements. When you do it the first time, or if you are returning to work after a long period, an image consultant will prove extremely helpful in creating a complete professional wardrobe within a reasonable budget.
Consider the industry you are about to enter and your future profile. Take a look at other professionals in the domain, particularly women. You don't need to mimic them, but you could use them as the basis in building your professional wardrobe. Check the style of clothing, Western, Indian or a combination. Check the lines, patterns and shades. Keep these in mind even as you try out what suits your body the best.
If you try to stock your professional wardrobe completely at one go, you are bound to make mistakes and it is likely to leave you frustrated. You are likely to overshoot your budget too. An image consultant can evaluate your current wardrobe and cluster your clothing requirements based on the style scale so that just a few pieces of well-chosen clothing and accessories serve your purpose to begin with. The image consultant can also help you evolve your personal style which works wonders in creating positive first impressions.
Grooming: Grooming goes beyond personal hygiene, it is also about managing what you wear creating a rumpled look and thereby managing your presence through the day at work. Styling your hair and applying make-up based on your face shape are a priority. They should also be of least maintenance. Skin and hair care are important in projecting a well-groomed image. You are likely to be part of semi-business gatherings and dinners. These occasions are as important as your day-time professional life in furthering your career. An image consultant will be able to guide you towards your natural day-time look as well as a glamorous evening look, giving you confidence and making you a well-received part of the social or semi-business gathering. In addition to business etiquette, dining etiquette is important too.
Body Language: This is one area in which professional guidance is of immense help. Many times, we are unaware of our body language. An image consultant can help you view yourself as others do. With an eye towards gaining a confident body language that is required in the professional sphere, the consultant can help you enhance your body language to create positive first impressions. In addition to projecting a body language that inspires confidence in your abilities, the consultant can also help you become aware of others' body language and help you mirror theirs, which is important in building and solidifying your relationship with clients, peers and superiors.
Vocal Communication: Similar to body language, we are often unaware of how we communicate. With professional help, you can learn the art of vocal communication, which includes not just the content of what you speak, but also of how you communicate. Professional situations demand a more conscious level of vocal communication to convince and influence colleagues and clients while inspiring confidence in them. Presentation skills are yet another part and these can involve handling interviews as well as making presentations to colleagues and clients. Vocal communication is also about being aware of your audience and tuning your communication accordingly.
The basic truth is, as a woman, whether you work at home or outside, you are a person with presence and importance of your own. But, once you step outside to enter the professional world, confidence and comfort with yourself is achieved by handling the transition through this threshold situation with conscious effort. The effort involves implementing the 4 elements of image management to help you project a positive image at work. The result is not just an increase in the confidence others place in you, but also in the confidence you have in yourself.
Read more about how celebrities like Amitabh Bachchan Mahendra Singh Dhoni  and Narendra Modi  manage their image across thresholds . Among the typical threshold situations of everyday life, read how students , professionals  and those who cross the threshold of marriage  manage their image. Read how prisoners  can manage their image when entering mainstream life.
The entire look and feel of this shoot are visually pleasing as well as harmonious; from the attire to the colour choices to the jewellery, it was a delightful experience watching this creative piece of work.
The Tanishq campaign may have done well overall, however, it could have received a much better response if everything could have been viewed holistically.
About the Author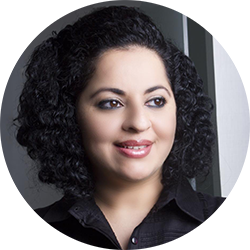 The author, Suman Agarwal, is the senior-most Image Consultant in the Indian Sub-continent and director of Image Consulting Business Institute. Image Consulting Business Institute is a pioneer in India and one of the biggest brands in the world in Image Management and Soft Skills Training Space. It offers programs for people to become Image Consultants and Soft Skills Trainers and at the same time offers Image Management and Soft Skills Training services to individuals and companies.
To become an Image Consultant visit
https://www.imageconsultinginstitute.com/become-a-certified-image-consultant/
To hire an Image Consultant for personal consultation visit
https://makeoversmart-com.cdn-sigma.com/image-management/individual-solutions-offered-by-icbi/
To hire an Image Consultant for corporate services visit
https://makeoversmart-com.cdn-sigma.com/icbi-corporate-training-solutions/ 
Suman herself undertakes select personal consultation and corporate training assignments. Write to suman@imageconsultinginstitute.com for any such assignments.