Most award ceremonies have their shares of hits and misses when it comes to either winning awards or having a winning image. Let's look at some of this year's hits and misses.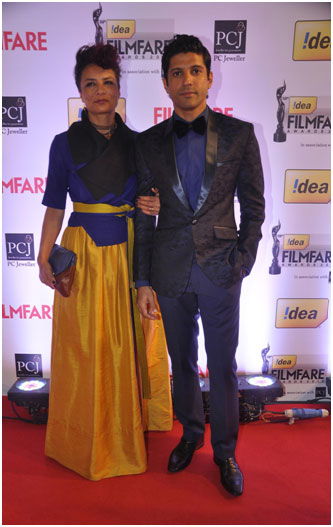 Farhan Akhtar was definitely a winner when it came to winning best Actor male for his role in Bhaag Milkha Bhaag. When it comes to his appearance, he is a winner again. The mix of Jacquard and color works well for him and is definitely a change from the usual black tuxedos. This choice of outfit goes well with his creative and stylish personality. Audhuna Akhtar's clutch doesn't go well with her quirky ensemble because of its color, which makes it appear mismatched. The look would've appeared complete if she picked something that went with the blue or the yellow of her outfit.

Priyanka Chopra looks fabulous in her gown. The combination of black and gold is perfect for the event and doesn't make her look out of place. The shape of the garment enhances her figure, giving it an hourglass shape. The addition of a red lipstick would have made her face appear brighter giving the overall look a good pop of color.

Swara Bhaskar's caplet-gown made her appear as though she was going to church for Sunday mass rather than for an award function. The entire look made her appear boring and much older than she actually  is. Her makeup and lack of accerssories just added to make her look even more boring. Nothing is this entire outfit goes with her or with the occasion.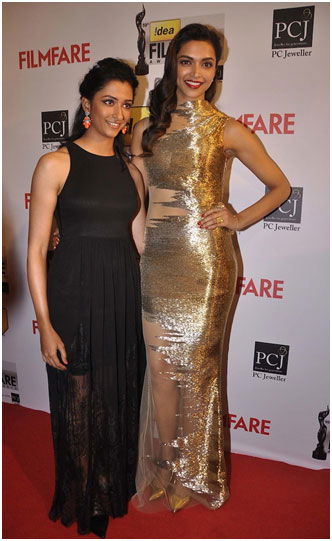 Deepika Padukone's look looked glamorous as any star would with her gold gown and matching gold heels. Adding to the gold the red lipstick and nail color added a pop to her look. The dress was flattering but she looked uncomfortable while walking and her movement seemed restricted, which was a clear indication that she was not comfortable in what she was wearing.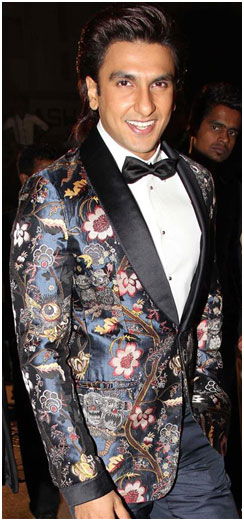 Ranveer Singh was without a doubt a hit. His patterned jacket worked well for him in terms of the occasion he wore it for and it was authentic in regards to his age and personality. The jacket added a fun and playful element to his look and made him stand out from the rest of the crowd.