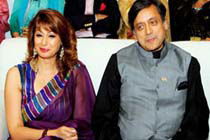 Recent news of the Sunanda Pushkar's death has the brought back news about her courtship and eventual marriage to Shashi Tharoor. As one sees pictures of them, you can clearly see a stark difference in the way they look. Even if someone didn't know who they are, one would easily say the way they look as a couple seems mismatched. Shashi Tharoor always looked dapper in either a suit or a kurta with a Nehru jacket – simple yet stylish. Whereas, on the other hand, Sunanda Pushkar dressed far from simple whether it was saris or salwar kameez, her style was always appeared loud and garish. Their style of dressing reflected their personalities – he came across as calm, composed, and sophisticated and she came across as someone loud and crass. No style is bad or cheap, but what you need to remember is your roles, goals as well as day-to-day activities.
In Sunanda and Shashi Tharoor's case there was a subtle conflict of thoughts due to this reason. Sunanda despite of being a wonderful human being did not realize the distinction between occasions where she should have carried herself with variation in her demeanor as well as attire. Unknowingly she had a consistent approach as far as her Image was concerned which worked for some occasions but totally failed at other. Slowly she started realizing the visible behavior change amongst the political circuit, which strained her relationship with her husband, and both started socializing separately. She was branded as a party queen of 'Dilli' because of the impression that she carried even though she wasn't as wild as people perceived her. People who knew her found her extremely warm and friendly, however behind a vibrant smile, there was pain, insecurity and lot of anxiety, which resulted in her demise.
People perceive Image Management as style management and extremely superficial however they forget that Image Management is an ongoing process and everyone at every level need to manage their image as and when required. Not caring about your Image can result in failure in relationships, failure to succeed and most importantly failure of happiness. Learn to Manage you Image Effectively for a happy and successful Personal, Professional and Social life.