Falling between the traditional sari at one end and western wear at the other are kurtas which many Indian women prefer for comfortable business wear.
While the sari has readily taken the formal route with small, geometric patterns, straight lines and angular shapes meeting our Style Scale requirements. Kurtas on the other hand, though one of the most readily available business wear for Indian women, have not been so accommodating in the line, shape and particularly the pattern parameter.
To add to that, when you search for winter formals in kurtas, your search narrows down to silks. It requires a bit of search to come up with a woollen kurta that will be right for business. But never lose heart, follow our advice and you can fill your wardrobe with appropriate kurtas for your formal to business casual winter collection. Know in this post how to wear kurta in winter.

What Length
If you are planning on wearing your salwars, set the thought aside. We are talking of just kurtas here. To get the Tailored look, they need to go with a pair of straight trousers and not the baggy pajamas that go with salwars. Now, the best part about kurtas is that you can maintain the same set of trousers for your western wear too, unlike a sari which requires a completely different ensemble.
For business casuals that is, the Casual Tailored look, you can wear leggings. Your wardrobe can have a few dark colored leggings, particularly a couple of blacks. Apart from being winter colors, dark colors are right for thicker legs.
While you have the long kurta (reaching mid-calf), short kurta (knee length) and kurtis (just below hips to mid-thigh), we recommend the short, knee length kurta for a Tailored look. Kurtis, when you are careful, can be worn in the Casual or Un-tailored levels of the Style Scale and are great for summer wear, but in winters when you have to wear a jacket on top, they become a constraint.

What to Choose
Choose dark colors in black, blue, green, red. Choose a kurta with plain or little design. No curves or large embroidery. You can choose those with straight lines or small, geometric designs. Look for collars for a Tailored Look. If it is a regular shirt collar, leave the top button or two open. If it is a mandarin collar, button it up. The line of the kurta itself must be straight with no flare. Long sleeves are needed for the Tailored look. Our post on Style Scale for Indian Women gives greater detail.
Layering the Kurta
For light winters, a simple slip is what you need for innerwear. For severe winters, you would do well to have warm inners. Look for a jacket that meets the length of the kurta.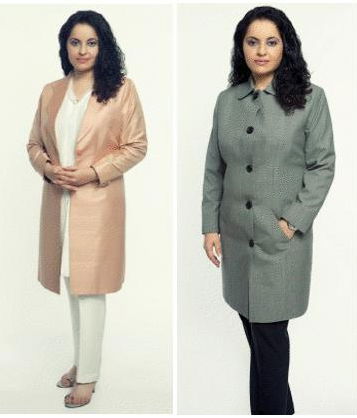 It will require a bit of a hunt to find such a jacket. Unfortunately, since most Indian designers don't yet cater to the women's formal wear market, you get few options in terms of design, pattern or outerwear when it comes to kurtas.
Again, considering the length of the kurta, you won't be able to use a sweater or shawl if you are to look formal. Don't make the mistake of wearing a kurti with a formal jacket on. A kurti essentially looks like a shirt that is not tucked inside and doesn't go well with a regular jacket.
A black, a deep blue and a cream jacket can go over most kurtas. When buying your winter kurtas, keep in mind the shade of the jacket in your wardrobe. Black jackets complement most dark shaded kurtas. It takes a bit of matching for the light colors though, but that's not one of your winter worries since you would be using dark colors during the cold season.
For very cold outdoors, an outer coat is a good idea. You can shed this layer when you enter the office. Keep a spare shawl or sweater at your desk, if you sit in a cold corner or for particularly cold days.
Shawl or Stole
You can have a few light shawls to go with most of your kurtas. Heavier ones look cumbersome on them. Stoles are particularly easy to match with kurtas and look good wrapped around the neck. You can add a bit of color here if the kurta-pant ensemble is entirely dark. And it will keep your neck warm.
Shoes and Socks
Wear black stockings or socks that match the trouser. Same goes for the shoes. Ensure though that you wear closed shoes with any kind of stockings or shoes.
These tips are the basics to create a winter wardrobe out of kurtas. Now, go shopping to pick up your favorite kurta ensemble this winter.