People are switching to an increasingly holistic way of living. Organic food, natural fibre, clothing, non toxic products, and natural beauty products have become a patent fashion. There is an ongoing interest of protecting the environment. As the awareness grows, sales for organic products and cosmetics are on the up because natural products are made with natural ingredients; they are free of harmful petrochemicals and functions in the same manner without causing any damage.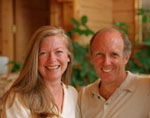 LotusOrganics.com is all about organic, natural sustainable clothing, and eco fashion. The founders of LotusOrganics.com have made excellent efforts in bringing awareness about healthy living.
Shellie & Michael Lackman have been dedicated to healthy and wholistic living for more than 35 years. They founded LotusOrganics.com to make it easy for everyone to have purely beautiful and healthy organic clothing for work, school, yoga, exercise, casual wear, and sleepwear.
At LotusOrganics.com, all garments are made with certified organic cotton or hemp fabrics and use low-impact, fibre-reactive dyes. They try very hard to insure that their clothing is grown and manufactured under ecologically sustainable conditions.
All garments in Natural or Cream colours are undyed, non-toxic, and can be worn comfortably by many people with chemical sensitivities. Many of their garments are manufactured in the U.S. All garments are produced in non-sweatshop, Fair Trade conditions.
Your health, the health of our earth, and the health of everyone involved in bringing these purely beautiful clothes to you is something which holds a lot of importance to them.
The evolution towards wholesome cosmetics or bio cosmetics has now become a natural solution to the demand for unprocessed, health oriented products. Clinique, Lancôme, and L'Oreal are just some of the global cosmetic giants revolutionizing the fast growing organic beauty market.
Most companies are now very conscious about their Carbon footprint and avoid products that pump chemicals into our bodies as well as in the atmosphere
For more detailed information, log on to organicclothing.blogs.com