A shift dress is one of the most versatile dresses. You can do wonders with it. Also called a sheath dress, its straight line had been in contrast to the cinched waist dresses of the earlier period and this simple, easy-to-manage style soon became a mark of independence that the new generation sought.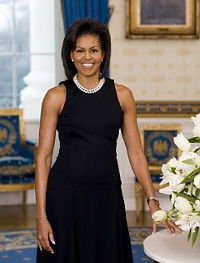 But this same simple, straight style gave rise to the misconception that a shift dress is meant for slim, boyish figures. Today, there is such great variety in style to it that it can be worn comfortably by women of most sizes and body shapes. When selected with care and with awareness of one's body shape and the occasion, a shift dress can be the perfect wear for your business, casual and evening occasions. It comes in a wide price range to suit your budget too.
In this post, we take a look at how this versatile dress can be the right dress for your formal and business casual work days.
Business Formal Wear
For business attire, the shift dress can be a straight cut in its simplest form, or with a slight waist definition. Just make sure that the definition is merely to enhance the look, rather than to define the waist to perfection. The latter would be a distraction and hence is not recommended in business wear.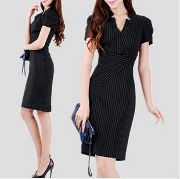 It can even have discreet pleats at the waist. The style you choose depends on your body shape and the attire that suits your office and the industry. If your body is of the slim, model's shape, you can do well with a straight cut, slim-fit dress. If not, you can have a wider A-cut which can look good on a heavy waist and hip shape.
The design itself can be in single or two-colours. For fully tailored, formal occasions, you would do well to choose a dress in single colour. Two-coloured dresses with contrasting colours in the upper and lower body look less formal. But when paired with a jacket the same shade as the lower half of the dress, the attire does rise on the scale of formal wear. Make sure that the upper half is a lighter shade and the lower half is of a dark shade. Stick to the formal colours of cream, grey and black.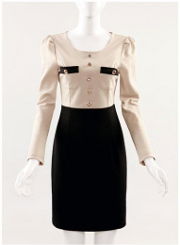 Apply the guidelines for business attire and you cannot go wrong. If you are in a highly formal atmosphere, choose a shift dress with straight lines and angular shapes. The texture of the dress must be crisp and firm. As for the pattern, plains and stripes are safe. Choose formal colours like black, charcoal, medium gray, steel gray and navy blue.
Business Casual Wear
Make sure that you use a combination of elements when choosing your business casual shift dresses. You cannot choose all the elements that make up casual wear at one go and still make your dress appropriate for office wear. For example, if you have chosen a pastel shade, go for a single colour. Have a dark sleeve-edge or a belt to lend the darker shades to the dress. Or let the line and shape be straight and angular to balance the formal with the business casual elements.
A knee-length shift dress is appropriate for business wear, casual or formal. Closed-toe shoes with about a 2-inch heel are perfect for business attire. Keep your accessories to the minimum, just one or two pieces of inconspicuous jewellery suit business wear, mostly just a watch and stud earrings.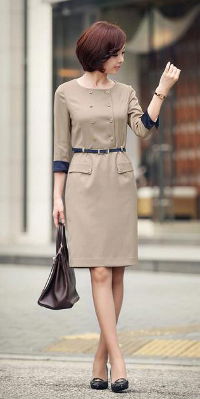 If you would like to bring some colour to the outfit, you can add a thin belt in a brighter colour. This is particularly helpful with the shift dress. It will help accentuate your waistline without proving to be a distraction from the business at hand.
You can wear a wider belt, but it requires a bit more caution. If your belt is wider than an inch or two, stick to the dark coloured ones, black or blue, depending on the colour of your dress. Don't wear wide belts whose colour is in contrast to your dress. Leave those for an official after-work evening out or for your casual wear. They can turn a formal or business casual outfit into evening or casual wear.
When applying the guidelines of business casual attire, remember that the lines of the dress can be rounded with curved neck lines and rounded collars. Your palette of colours can include pastels that don't fall under the category of the brighter summer colours. If it is a two-colour piece, it can be of softer contrast. Fabric can be softer and more pliable than in the case of a fully formal dress, but don't go for the really soft silk fabrics. You would be safe with plains and striped patterns even in business casuals.
Jackets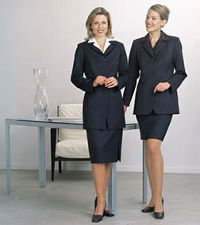 Pair the shift dress with a jacket. Since formal business attire follows a strong contrast guideline between jacket and dress, you may want to wear a two-colour shift dress on those occasions. In case of a two-colour shift dress, let the jacket match the lower half of the dress. But you would be perfectly right in choosing a dress and jacket in the same shade. On the other hand, business casual wear demands less contrast.
A short jacket looks smart while a long jacket can speak elegance. Choose the jacket length based on your comfort, body shape and the occasion. Choose long or short-sleeved jackets based on the occasion. Full-sleeved jackets are appropriate for a fully formal business day.
Given that a shift dress is a great asset to your wardrobe, choose one carefully and you can enjoy days of unrestricted independence at work.
Stay tuned for our next post, Shift Dress – Casual Wear.