From our previous post titled Shift Dress – Business Wear to the current post about the Casual Wear Shift Dress, there is a great deal of difference.
Just as there are guidelines for business wear, there are a different set of guidelines for casual wear. But since the choice is much wider for the latter, you are better off beginning with the image you choose to project for the day or the occasion. Once that is done, the choices you make are far more manageable.
First, decide whether you want the careful casual look or the carefree casual look. The careful look is about telling people that you are stable, careful, orderly and self-sufficient. The carefree look, on the other hand, is about showing the impulsive side of you, the experimental and the free spirit in you.
Whichever look you decide to project for the day, you need to do it with care. Choose your shift dress and the accessories after considering factors like the occasion, season, your body shape and your skin tone.
Careful Casual
You can have the perfect winter wear with a long-sleeved sweater beneath the shift dress and legs encased in black leggings or stockings. You can wear a straight sheath or one with a defined waist with or without pleats.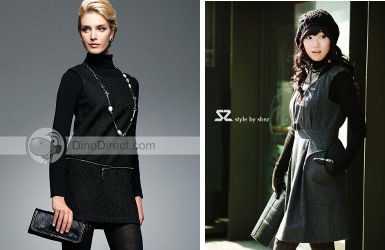 Turtle necks give you warmth on a cold, wintry day. Make sure the shape is as perfect a circle as it can be around the throat. The careful look is all about evenness, straight lines and geometric shapes. The belt, if you wear one, can be thin to medium-width which is about two inches. While you could wear a high, mid or low waist belt, it is often a low-waist belt that suits the casual look. But make this choice based on the occasion and your body shape. Thick waists tend to look better with mid-waist belts. Let accessories like the chain, earrings, purse be in black, silver or white depending on the entire look. Shoes can be open- toed to retain the look at casual.
For warmer days, you could choose lighter shades of color for your shift dress. If you have chosen a dress in a dark shade, the jacket could be of a lighter shade. Wide belts with a shiny buckle or buttons accentuate the casual look.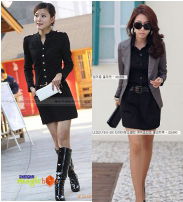 Accessories can be used to great advantage to tone down a careful look just a little bit. Shiny high boots, shiny belts or buckles, bangles, bracelets, chain, hoops in the ears, caps and purses can all be used to advantage. Or you can let your hair free and bring about a ruffled look to tone down the careful look.
During summers, choose a shift dress that isn't form-fitting. It helps your skin breathe and remain cool. You can manage this look with a straight or flared shift dress. White, in combination with breezy pastels is a great way to get that summery look. You can attain this look with a combination of white and a pastel shade on the dress itself. The other way is to have the dress in a single-colour pastel, but accompanied by a white jacket.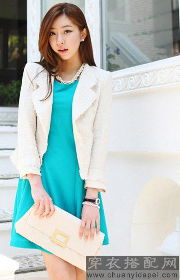 If you have the figure for it, you could wear the skin tight sheath too. While it is casual and shows your figure to the last inch, it is still a careful look. But, this look is vastly different from the steadiness, care and stability factors we used to define the careful casual look. This style is about a careful look that draws attention to your body, so give thought to the occasion and the image you would like to project before you make your choice.
Carefree Casual
There are days when you are at your carefree best. You are out to watch a game, have a joy ride or are just in the mood for it. For winters, long-sleeved shift dresses with or without a defined shape can be worn with the right accessories to project your carefree, impulsive nature.
Knee-high boots, a cap in wild print and a wide belt in contrasting colour to cinch your waist are some accessories than can bring that look. You can add a turtle neck without the perfect even shape and push up the sleeves to make you look as if you will go at a hop, skip and a jump at any moment.
For the summery look, a sleeveless or half-sleeve shift dress in pastels or bright colours is perfect. Match it with a pair of mid-height heels or flats. The latter accentuates the carefree look. Just light make-up with few or no accessories completes your carefree casual look.

A polka dot dress is a perennial favorite in casual dresses for women. When the dress is in high contrast like a strict black and white polka print, balance it with a pair of skin-tone shoes. You could experiment with the neckline, using peter pan collars, regular collars, round necks and a host of styles to suit the dress, your shoulder width and the occasion.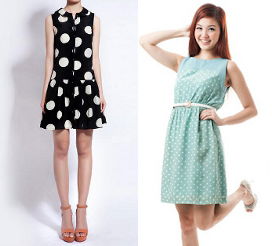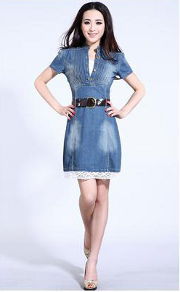 Denim is another perennial favorite in the carefree casual shift dresses. Lace around the hemline, a narrow or wide belt, a pair of shoes in skin tone can all give it that special touch while retaining denim's carefree casual appeal.
Alternately, you could wear a shift with spaghetti straps or with an ethnic motif that speaks simply casual.
For the complete flowing summery look, you can have a long shift dress that flows around you in whites, pastels and summery motifs. It has the length and flow to give you that perfect fresh look. Wear it loose or tie it with a waist band or scarf to alter the look.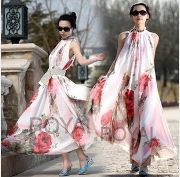 In conclusion, the fabric, line, colour, texture and pattern can be used to create great variety in your shift dresses. Choose your colours with care. Blacks and whites are essentially about chic. Grays and navy blues are about being steady and careful. Bright colours can be carefree and fun. Choose the colour of your shift dress with care and match it with the right accessories to create the appropriate look for the occasion.
Look out for our next post, Shift Dress – Evening Wear.