For most women professionals, pregnancy is a fact of life which they have to manage once, maybe twice during their career. It's just a matter of time.
Today this constitutes working until the very end of their pregnancy. Workload and current style of work does not encourage long maternity leaves. So, most would-be-mothers save up their maternity leave for the post-pregnancy days since they want to be with the baby as long as they can. But this raises the problem of professional dressing during pregnancy.
One issue is the fast changing size from month to month. Does this require a full change in wardrobe?
The second issue is of managing the professional look particularly during the third trimester right up to delivery. Is there a way to dress in a professional manner during this period?
The answers to these two questions are No and Yes.
No, it does not require a would-be-mother to change her wardrobe completely.
It is understood that pregnancy entails frequent size changes, hence no one will expect you to have your normal range of clothing during this period. But, if you invest wisely in a few pairs of expandable and fairly uniform clothing, you can manage the period well.
Yes, there is a way to dress professionally, particularly during the final trimester.
With a great amount of choice available, it is not necessary for you to wear frumpy clothes. You can do it with style while taking pride in your pregnancy. Airline companies have taken care of pregnancy dressing in designing crew uniforms. But for the rest, it is a matter of choosing what is right during the last trimester when size changes considerably.
You can wear trousers, even skirts right till the end. Pair them with soft tops that look formal. Or you can wear kurtis or kurtas. Sari can be unwieldy, but a piece of cake for those familiar with it.
Western Wear
Generally women shy off western wear when it comes to maternity dressing for work. They manage things just fine up to the second trimester, but when the third trimester arrives and the body gets heavier, many tend to discard western wear. There is no need for that.
Suits – Jackets – Stoles
Since your regular fare will no longer fit you, buy two trouser suits if you wear suits to work. Black and navy blue, apart being the standard professional ware, are dark and balance the bump quite well. You can pair the jacket with multiple trousers. Since this investment is just for 3 months at a time, don't buy too many. Leave the jacket unbuttoned, you are not likely to be able to button it either. If it is too hot for a jacket, consider having a couple of wraps – black and grey can be a standard investment. But make the decision based on your wardrobe.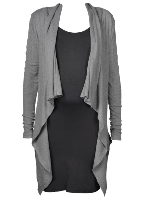 If you find jackets too hot or too formal for your profile, you could wear shrugs. They are soft, hence very comfortable and worn loose they give you a lot of free movement.
Alternately, if you don't wear a jacket to work or if it's the hot season, you may want to wear a stole or shift to a shawl for the cold season. You could wear it in the simplest way – pass it around your neck and let the edges fall to the front. Make sure you don't make a knot. It makes the edges will fall in a single line right down the middle and draw attention to your pregnancy. Letting it fall on either side balances the look particularly during the second and third trimesters.
Trousers – Skirts
You may want to avoid the really high and low waists. Settle for waists beneath the navel. With this, you can have the belt beneath the tummy and this won't hurt when you sit either. You could opt for cigarette pants or straight cuts. Wear them with your tops and see what they look like before you make the purchase. Since your top is likely to be flowing rather than straight cut, avoid boot cut or other variations of flared pants, they make you look wider than you already are.
You could look for trousers with an elastic belt. Better still, look for trousers with a stretch upper part. Made for pregnant women, the stretch fabric of these trousers runs from the waist down to where the trouser legs begin. In contrast, the lower half that is, the legs are made of regular trouser fabric. Paired with tops that reach mid thigh, these are ideal for would-be mothers. They do not compromise comfort for a professional look, offering both effectively.
You could go for your usual skirts. Skirts that reach just below the knee will stand you well, particularly when buy pencil skirts.
Tops – Blouses
For blouses, go for soft cotton or wool tops depending on the season. You could have boat, V, round or any neck and leave it out without tucking it into the trouser. Alternately, you could choose an empire waist top. These are tops with a high waist, sometimes starting right beneath your bust.
They tend to hide a large tummy or waist and are just the right ones to wear during maternity. But try them on before you buy, sometimes you might find that they make the pregnancy obvious where it otherwise wouldn't, particularly during the first two trimesters. Whether or not you wear empire waist tops, make sure that the top has a bit of flare and is long enough to fall to the upper thigh. Shorter tops tend to make the tummy more prominent.
 If you don't wear a jacket, you could choose tops which are wraps. Choose fairly long, loose ones since wraps are soft and tend to stick to the body if worn tight.
The right place to look for your pregnancy clothing is not just the maternity stores like Mom & Me, but also the large women stores. Many retail chains and dedicated stores cater to these plus sizes, offering a range of options for your growing size.