Trouser Trouser where are you?
Before I became an Image Consultant, the most confusing part of my shopping was buying trousers & denims. It got so frustrating at one point that I had literally stopped wearing trousers because never understood the fit, high waist / low waist, slim fit / straight fit. Phew…
With all the confusion I had in my earlier days, am writing a small post to make life simpler for people like me.
 Triangle Body Shape:
People with this body shape have a wider lower body. The aim here is to balance out the Hip, Thigh & legs.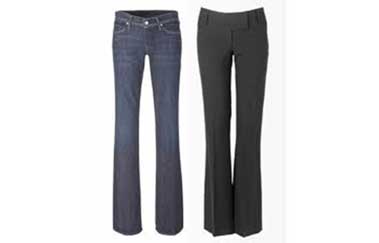 Straight pants are your best friend. Straight cut pants will flow over your body and give an illusion of balance.
You can opt for flare and wide leg but the slimmest version, avoid the boot cut's like 80's
The new trend of Pallazo pants will work very well in balancing out the lower body, the trick here is to wear a semi-fitted top / blouse
Pleat fewer trousers / Flat Fronted trousers flatters the waistline and balances the lower body
Avoid ankle length denim / trousers, if your legs are too thin compared to your thighs
Again no to less detailing around the waistline, so as not to draw attention there.
Opt for dark coloured bottoms, you can opt for trendy colours like fuchsia or coral in darker shades.
You can wear pinstripes or self-stripes or self-design trousers, but preferably in darker shades, ideally your trousers or denim can't attract attention.
If you are a Plus size, opt for plain trousers, since you don't want the attention there.
Size zippers are definitely to be avoided, any sort of detailing that will get the attention to the lower body does not work for your body type
Wear No / slim belt (no fancy buckles) and preferably at least mid heels.