While most of the typical threshold situations we talked about in our introductory blog refer to professional situations, including those of students, professionals and homemaker-turned-professionals, a critical personal threshold situation is of marriage which men and women alike face.
That most people cross this threshold with little psychological and emotional preparation goes without saying. Not surprisingly, this is an observation made by psychologists and lawyers, the two sets of experts whom couples reach out to when marriages face turbulence.
Can turbulence in marriage be prevented completely? No. But, it can be minimized by handling of yourself well and thereby the situation.
It involves stepping beyond your individual role into that of a partner and as the member of an entirely different family. First impressions are critical and men and women who prepare themselves for this role with a change in image find themselves creating the much required positive first impressions. Image management helps you do just that by creating an image which brings out your inner self, thereby attuning you to a new family, greater responsibilities and a new role.
Going Beyond Comfort Zones
The biggest challenge that threshold situations place in your path is that they take you out of your comfort zone. Much as you look forward to marriage as a bed of rose petals, it is actually a bed of roses, thorny stems and all, and you bleed when they prick. The solution to minimizing the thorns is to step out of your comfort zone and prepare for it and image management helps you do that.
Your spouse is after all a new person. You may have known him or her for years or months or weeks or not at all, none of that matters. Once you marry your spouse, he or she is no longer your fiancé or fiancée, but your well… spouse. Expectations change, greater demands are made and old habits return. Soon, you get used to your spouse and you start giving lesser importance to the image you project. That's a mistake.
The Larger Family
Man or woman, you become part of the spouse's family, including parents, siblings and the extended family. There are expectations to be met and empathy to be exercised. Body language and vocal communication have a large role to play here, not to speak of clothing and grooming. And when you live with them in a joint family as many women do, it's an all-day exercise that you aren't particularly prepared for.
When her sister-in-law asked Mrinalini after a couple of decades of marriage, "Were you worried when getting married that you were going to have so many sisters-in-law?" Mrinalini gave an honest answer.
"No, because I didn't know what it meant at the time."
Some of us enter into marriage psychologically unprepared for the demands it places on us. Some of us over prepare too, creating its own set of problems – we might be too submissive or too aggressive.
What can't be denied is the importance of image management in preparing us psychologically too. On the surface of it, image management teaches you how to effectively implement the 4 elements – clothing, grooming, body language and vocal communication – to create positive first impressions, which form lasting impressions. But, deep down, image management is based on your inner self, allowing it to emerge as your outer self. In doing so, it is a key process through which you are psychologically prepared for the threshold situation.
This it does with awareness of the surrounding situation and empathy for the people, in this case, of marriage and a new family, and making the 4 elements work appropriately. It helps you place your best foot forward with empathy and understanding. This becomes all the more important when you marry into a different culture.
An image consultant can guide you towards the right balance and hence towards finding the right wavelength with your new family on a continuous basis – neither going overboard in the first few months, nor letting things slide subsequently.
How Image Management Helps
As a home maker or as a working wife, clothing and grooming are important in projecting a positive image. This is equally true for men. It all begins well before marriage – while you purchase your wedding trousseau itself. It's time to engage an image consultant who guides you towards becoming more aware and knowledgeable of your future spouse and in-laws, their customs and habits. The consultant can then guide you towards the most appropriate wardrobe based on your inner self and those of the future family. Rather than become the proud owner of numerous wedding saris that can only be taken out once a year or less, with smart clustering, the consultant will help you carry the ideal wardrobe that comes handy on any occasion or time of the day.
With grooming, you will go beyond personal hygiene to hair style and make-up that suit your face and which can be maintained easily – at home or at work. While clothing and grooming allow you to place your best foot forward, body language and vocal communication help you find the right balance of empathy and confidence. So that you are not taken for granted, nor do you take others for granted. The right body language is not only about yourself, but also about your audience, so that you gauge their moods and balance your responses and your own body language accordingly. Mirroring the opposite person's body language goes a long way in finding a connect with the other person.
As for vocal communication, observe different families and you will find that their manner of communication differs. Tone, rhythm, pace, decibel level, the manner of describing, the content of conversations and the way they respond to one another differs. These play subtly on the subconscious, drawing you closer or distancing you from the family. It pays to understand the nuances and tune your response accordingly and if necessary, to work towards a gradual change in the spouse in this matter.
It is extremely important not to forget yourself in the bargain of becoming part of the new family. Smart time management helps you balance the needs of yourself, of your spouse and of the extended family. Find your time and you will find your space and yourself even as you accommodate the new family's needs. This is one of the critical requirements for crossing the threshold of marriage.
Successful marriages aren't successful as a matter of course. They become so because the two spouses work at it, and more importantly because they give importance to the spouse and to themselves. The ideal time to set the preparation in motion is well before the marriage, to make adjustments when you actually cross the threshold and then to continually reinforce the image you have created.
You will face many more threshold situations after your marriage, for example, being given greater responsibilities, having children, managing critical social situations and so on. But, the initial success will help you make the necessary transitions with the later ones too.
Read more about how celebrities like Amitabh Bachchan  Mahendra Singh Dhoni  and Narendra Modi manage their image across thresholds. Among the typical threshold situations of everyday life, read how students  and homemakers-turning-professionals manage their image. Read how prisoners  can manage their image when entering mainstream life.
[/et_pb_text][et_pb_text admin_label="Text" background_layout="light" text_orientation="left" use_border_color="off" border_color="#ffffff" border_style="solid"]
The entire look and feel of this shoot are visually pleasing as well as harmonious; from the attire to the colour choices to the jewellery, it was a delightful experience watching this creative piece of work.
The Tanishq campaign may have done well overall, however, it could have received a much better response if everything could have been viewed holistically.
About the Author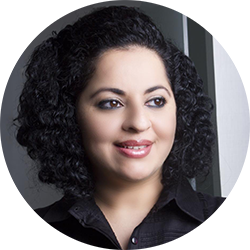 The author, Suman Agarwal, is the senior-most Image Consultant in the Indian Sub-continent and director of Image Consulting Business Institute. Image Consulting Business Institute is a pioneer in India and one of the biggest brands in the world in Image Management and Soft Skills Training Space. It offers programs for people to become Image Consultants and Soft Skills Trainers and at the same time offers Image Management and Soft Skills Training services to individuals and companies.
To become an Image Consultant visit
https://www.imageconsultinginstitute.com/become-a-certified-image-consultant/
To hire an Image Consultant for personal consultation visit
https://makeoversmart-com.cdn-sigma.com/image-management/individual-solutions-offered-by-icbi/
To hire an Image Consultant for corporate services visit
https://makeoversmart-com.cdn-sigma.com/icbi-corporate-training-solutions/ 
Suman herself undertakes select personal consultation and corporate training assignments. Write to suman@imageconsultinginstitute.com for any such assignments.