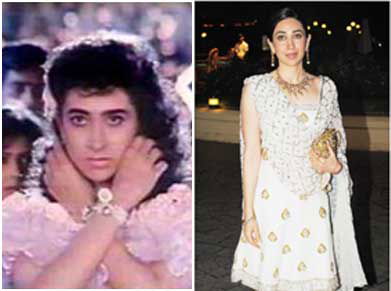 Karishma Kapoor is the first name that comes to mind when we talk of transformations in Indian Cinema. She is the perfect example of how belonging to an illustrious family is not enough to make a person look good. To her credit, when she debuted as a 16-year old in Prem Qaidi, heroines had little say in how they looked, their clothes, accessories and make-up.
Her debut with Prem Qaidi was a fashion faux pax with puffy sleeves, puffed hair and bushy eyebrows, making her look out of place. She continued this look with a few more movies. Then the transformation came about with Raja Hindustani into a sleek, slender, well-dressed and groomed heroine who looked every inch in place.
While the transformation was helped by Manish Malhotra, she has cultivated her personal style which is of poise and sophistication while making an understated yet effective statement. Her trademark style is elegant and tasteful in which the clothing style and design has a minimal look. Today, she sports clean cuts and simple patterns in her clothing, letting the clean lines speak for themselves.
She is not averse to using relatively unknown designers which speaks of her confidence in her style and look. According to designer Karishma Trehan, "She makes one thing the focal point, a stunning pair of shoes or a bracelet." These help carry the clean lines of her clothing without making her look severe. It is the perfect way to use your accessories to complement your clothing.
There is much we can talk about regarding Karishma Kapoor's current style which has a timeless quality to it. But that's for another day. This post is just about how a transformation can be brought about by understanding yourself and choosing your clothing and accessories with care and confidence.